Dherbs Launches the DherbsChallenge.com to Show Off Their Customers' Amazing Weight Loss Photos
Press Release
-
Oct 20, 2015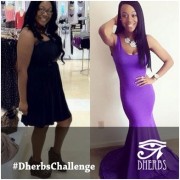 Los Angeles, CA, October 20, 2015 (Newswire.com) - Dherbs.com, home of the 20 Day Full Body Cleanse and the premier online resource for herbal supplements, announced today the launch of their new contest, the Dherbs Challenge. Users are encouraged to visit dherbschallenge.com where they can upload before and after photos that they can share across their social networks. To generate excitement for the contest and to encourage participation, contributors will be entered into a drawing to win an iPad on December 1st.
Although Los Angeles-based Dherbs has dozens of all-natural products and formulas, its flagship item is the 20 Day Full Body Cleanse. The Full Body Cleanse, designed to help the body function at its optimal level, improves users' immunity, organs, vessels, and helps the functioning of their circulatory, digestive, and respiratory systems. The thing that users get most excited about, however, is weight loss.
"People call us all the time absolutely astonished that they've lost 15, 20, 30 pounds," says A.D. Dolphin, the CEO of Dherbs. "We always ask them to email us before and after photos, so we can share their success with our community. The Dherbs Challenge takes that a step further. It gives our customers an easy way to show their friends and family how much weight they've lost."
About Dherbs
Founded in 2004, Dherbs, Inc. is one of the world's leading online herbal supplement companies. Its flagship product, the 20 Day Full Body Cleanse has been used by over 3 million people all over the world to optimize their health and help them lose weight.
Share:
---
Categories: Exercise and Physical Fitness, Lifestyles, Dieticians and Nutritionists
Tags: alternative medicine, cleanse, detox, dherbs, full body cleanse, full body detox, health, herbal products, herbal rememdies, herbal supplements, weight loss, wellness
---