zlien Applauds Ohio Regulators' Decision to Allow the Construction Industry Use of Technology to Make the Mechanics Lien Process Easier and More Accessible
Press Release
•
Jul 21, 2016
zlien and the Cleveland Metropolitan Bar Association signed a settlement agreement, approved and ordered by the Board on the Unauthorized Practice of Law of the Supreme Court of Ohio, confirming zlien's right to help contractors and suppliers doing business in Ohio.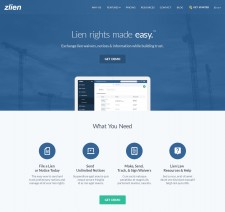 New Orleans, LA, July 21, 2016 (Newswire.com) - zlien has settled a multi-year legal dispute with the Cleveland Metropolitan Bar Association through an agreement that permits zlien to continue to send notices of furnishings, present mechanic liens for filing, facilitate the exchanging lien waivers, and otherwise operate for parties in Ohio.
The agreement does not impose any material limits on zlien's software or business practices, and also resolves a complaint zlien filed against those parties in federal court in Louisiana in July 2015, which sought to have certain Ohio regulations and regulatory actions declared unconstitutional, and claimed antitrust damages.
This settlement agreement will let people in the construction industry continue to affordably protect their legal rights.

Tom Gordon, Executive Director of Responsive Law
"We're happy to see Ohio's Unauthorized Practice of Law Board confirm that zlien's software is welcomed in Ohio," said Nate Budde, zlien's Chief Legal Officer. "Though the mechanics lien process is designed to help all stakeholders on a construction project, it's a complicated process, and contractors, suppliers, and other industry participants in Ohio and elsewhere rely on zlien's resources and tools for access to those important rights."
In just the past 12 months, zlien's software has helped suppliers, contractors, and other construction project stakeholders across the entire United States manage their mechanics lien rights on over 300,000 projects representing more than $5 billion in contract value.
"This settlement is great news for contractors and suppliers doing business in Ohio," said Scott Wolfe, zlien's CEO. "The mechanics lien process is crucial, but it can make construction payment messy. When lien rights are buried in layers of opacity and bureaucracy, there's no path to a fair and transparent payment ecosystem."
The associated federal litigation arose after zlien received a complaint from the Cleveland Metropolitan Bar Association in which it was alleged that zlien, and several associated individuals, had engaged in the unauthorized practice of law when a mechanics lien was prepared through the use of zlien's software and was presented for recordation in Cuyahoga County in February of 2012. zlien responded to the Ohio complaint, and also filed a federal action based in large part on a 2015 United States Supreme Court decision, North Carolina State Board of Dental Examiners v. Federal Trade Commission, that subjects certain boards and regulators to antitrust legal exposure. The consent agreement dismisses the federal litigation and the regulatory complaint.
"Technology has advanced to the point where it can put groups that change at a slower pace - like bar associations - in unfamiliar and potentially uncomfortable situations," said Budde. "Software can't practice law, and people still need lawyers for certain tasks, but things that technology can do are not the things for which lawyers are required."
In its order dismissing the complaint against zlien, the Ohio Unauthorized Practice of Law Board referred to a 2010 Ohio Supreme Court decision against the mechanics lien service, Lienguard, stating that "the preparation of an affidavit for mechanic's lien or in satisfaction of mechanic's lien is the unauthorized practice of law" but distinguished that from zlien's business and accepted that "zlien is not prohibited from providing software that allows customers to complete forms creating mechanic's lien affidavits to file in Ohio."
"Lienguard and other construction notice and lien service models are different than zlien," explains Wolfe. "It's common for bar associations, lawyers, and others to confuse this, but there's an important distinction here, and it's great to see the Ohio Unauthorized Practice of Law Board recognize this distinction and accept that software itself is not illegal, cannot practice law, and can be leveraged by businesses to manage complex legal-related tasks."
"Millions of Americans — both individuals and small businesses — are priced out of our legal system. Although some complex legal matters may be best handled by a lawyer, many legal matters are more routine. For routine matters like a mechanics lien, software can provide competent assistance that doesn't cost $250 per hour," said Tom Gordon, executive director of Responsive Law, a national nonprofit working to make the legal system more accessible and affordable. "This settlement agreement will let people in the construction industry continue to affordably protect their legal rights."
Pursuant to the settlement, zlien has agreed to require its users to sign generated lien documents themselves rather than appointing zlien to sign for them through a power of attorney, but the overall use and function of zlien's software is not modified. Further, zlien did not admit that signing a document constitutes the practice of law, and retained the ability to seek a legal determination as to whether signing an affidavit on behalf of a 3rd party, through a power of attorney, does or does not constitute the practice of law.
"Our software's ability to make the lien rights process easy for all construction project stakeholders is a great benefit to contractors and suppliers in Ohio, which includes many small businesses," says Wolfe, "and it's not the practice of law. I'm glad the Ohio UPL Board and Cleveland Metropolitan Bar Association finally agree."
About zlien:
zlien's cloud-based platform makes lien rights easy, empowering a fair construction ecosystem that everyone can trust. Construction firms, material suppliers, equipment renters, and other project stakeholders nationwide use zlien to eliminate the administrative headaches and legal guesswork associated with lien waiver exchanges, preliminary notices, and mechanics lien compliance. zlien enables these firms to minimize financial risk and achieve a more seamless, transparent, and fair payment processes. Users include thyssenkrupp Elevator Americas, Blueline Rentals, Graybar Electric, TruTeam, USG Corporation, Belfor USA, and other highly successful Fortune 500 companies in the construction industry. Investors include Altos Ventures and Brick & Mortar Ventures. For more information about zlien, or a free demonstration, visit www.zlien.com.
Source: zlien
Related Media