Zib Digital is Transforming New Zealand's Business Landscape
Press Release
•
Sep 1, 2023
In an era defined by technological advancements and ever-evolving consumer behaviours, businesses in New Zealand are turning to innovative strategies to thrive in the digital landscape.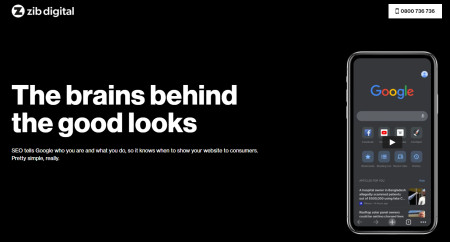 AUCKLAND, New Zealand, September 1, 2023 (Newswire.com) - As a leading digital marketing agency, Zib Digital has emerged as a pioneering force in New Zealand with a commitment to transforming businesses through data-driven strategies. From optimising online presence to increasing brand visibility, Zib's comprehensive suite of services is geared towards facilitating significant business growth for its clients.
One of the key focal points of Zib Digital's expertise lies in its search engine optimisation (SEO) capabilities. Operating in an environment where online visibility can make or break a business, the premier SEO agency has a deep understanding of New Zealand's unique market nuances, enabling the team to develop customised strategies that drive targeted traffic and elevate search engine rankings. The combination of local insights and global best practices has positioned Zib Digital as the go-to SEO agency NZ-wide.
Zib Digital's commitment to delivering results is evident through its partnership approach. Collaborating closely with clients, the agency ensures that each strategy is aligned with specific business objectives. From small enterprises to large corporations, Zib Digital's ability to tailor strategies to suit diverse needs has garnered a solid reputation in the industry.
According to the agency, digital marketing requires a holistic approach, and their expertise extends beyond SEO, encompassing a full spectrum of services. From pay-per-click (PPC) campaigns that drive instant traffic to strategic content marketing that engages audiences, by leveraging cutting-edge technology and tapping into industry trends, Zib Digital consistently delivers campaigns that resonate in the digital sphere.
In a world where the digital landscape is in constant flux, Zib Digital stands as a reliable partner for businesses aiming to thrive amidst uncertainty. By combining the power of digital marketing with a deep understanding of the local market, the agency continues to reshape New Zealand's business landscape.
To learn more and to discuss a tailored digital marketing strategy focused on business growth, visit https://zibdigital.co.nz/
About Zib Digital
For over 15+ years, Zib Digital has been a leading digital marketing agency in Australia and New Zealand. Offering a comprehensive suite of services including SEO, PPC and social media marketing, Zib is dedicated to delivering results-driven campaigns that make a real impact.
Source: Zib Digital