Zeto Awarded 'Best New Neurology Solution' in 2023 by MedTech Breakthrough Awards
Press Release
•
May 22, 2023
Prestigious International Annual Awards Program Recognizes Standout Digital Health & Medical Technology Products and Companies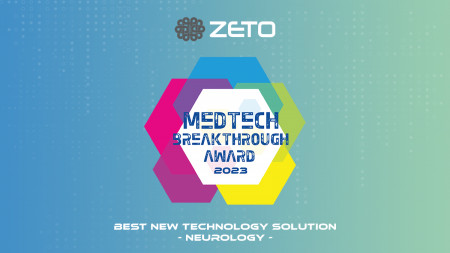 SANTA CLARA, Calif., May 22, 2023 (Newswire.com) - Zeto, Inc., a commercial stage medical technology company transforming EEG brain monitoring for health care, today announced that it is the recipient of the "Best New Technology Solution for Neurology" award in the 7th annual Awards program conducted by MedTech Breakthrough, an independent market intelligence organization that recognizes the top companies, technologies and products in the global health and medical technology market.
Zeto makes it possible for any health care facility to offer a convenient, turnkey EEG solution to their patients. The company provides the first and only FDA cleared, wireless, dry EEG headset that can be put on by any medical staff within five minutes.
The Zeto Cloud provides high performance, real-time viewing, analysis and reporting. Live video and data can be interpreted seamlessly via the cloud, and is further enabled by AI based, FDA cleared seizure detection. Zeto also offers optional continuous monitoring by certified EEG technologists, and interpretation services by board certified neurologists.
EEG device innovation highlights include active electrode technology, 10-20 positioning, soft, flexible electrodes, comfort for patients, advanced noise shielding and noise cancellation and clinical grade signal quality. Built to feel like a bike helmet, the device offers easy head size adjustment via adjustable dials.
"The massive unmet need for brain monitoring extends beyond neurology departments to ICUs, EDs, remote monitoring, telehealth and physician offices. At Zeto, we want to eliminate any negative experience with a product that is both convenient for the operator and comfortable for the patient," said Aswin Gunasekar, CEO of Zeto, Inc. "Receiving the 'Best New Technology Solution for Neurology' award from MedTech Breakthrough is a testament to the value our product is delivering."
The mission of the MedTech Breakthrough Awards is to honor excellence and recognize the innovation, hard work and success in a range of health and medical technology categories. This year's program attracted more than 4,000 nominations from over 17 different countries throughout the world.
"The portable nature of this EEG headset from Zeto has amazing potential for patients and practitioners, especially as it offers similar signal quality to traditional devices," said James Johnson, managing director, MedTech Breakthrough. "EEG is an important diagnosis technique for several neurological issues. However, the biggest limiting factor is that conventional EEG needs a trained operator to administer the test, and if a facility doesn't have a neurologist on call, they are unable to read the EEGs. Congratulations to Zeto for transforming the way we perform EEGs, with tangible and real results."
Zeto is serving over 200 health care facilities with more than 45,000 clinical EEGs performed.
About Zeto, Inc.
Zeto, Inc. is an award-winning, privately held medical technology company located in Santa Clara, CA, that is focused on transforming the way electroencephalography (EEG) is performed at hospitals and clinics.
To learn more about Zeto's products, please visit: https://zeto-inc.com.
Source: Zeto, Inc.