YUCHIP Analysis: The Representative Products of Indoor Small-Pixel-Pitch Commercial LED Display -- LED Digital Poster
Press Release
•
updated: May 29, 2018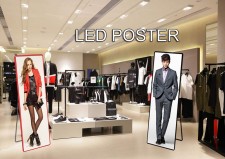 SHENZHEN, China, May 29, 2018 (Newswire.com) - All the time, science and technology have been regarded as the first productivity, and this is also the case in the LED display industry. Since the small-pitch technology has matured and the products have reached to be mass-produced, the application of LED displays in indoor commercial displays has become very impressive. From the command and monitoring centers and meeting displays to window advertisements and auto shows, small-pitch products have been used successfully and become the new start of high-end display. Among these, the display of small-pitch products are hopeful.
In traditional close-distance display devices, LCDs and DLPs are affected by technology and have not been able to achieve true seamless connecting. The sense of splitting of the screen cannot bring a perfect visual experience. In addition, the screen display technology caused congenital problems such as color, brightness and reflection, so the effects of these two displays cannot be comparable to small-pitch LED products. Therefore, even if the LED display is inherited with high brightness, serious heat and high dead dots rate, the small-pitch product still wins the market recognition with its excellent display effect.
Since the beginning of this year, the small-pitch LED display has a prompt development, and it has become even stronger in the large-screen splicing market. In the first half of 2017, a number of data showed that the large-screen splicing market was RMB4.48 billion, of which the percentage of LCD splicing was 48 percent, and small-pitch LED was 35 percent and it increased by eight percent, and that of DLP splicing was 16 percent, which dropped by eight percent. Undoubtedly, small-pitch LED has a fierce offensive on the market share of DLP splicing. As a cost-effective product less than LCD, the effect is not as good as LED, and the progress of technology is also slow; DLP splicing environment worries a lot.
The prices are expected to continue to go lower, and the prospect of future applications is promising
Since this year, with the promising market for LED small pitches, many LED display companies have stepped up their efforts in research and development. And the production of small pitches has continued to increase and competition has intensified in the industry. So the price of products has been driven lower. And, the analysis found that in a small-pitch LED product, the lamp occupies 70 percent of the total cost. In recent years, as the R&D process of upstream LED chip companies in China has been accelerating and production costs have been reduced, chip prices have dropped for the first time in two years, and it is expected that price cuts will continue. Middle-range LED packaging is also gradually accepted by manufacturers for domestic production equipment, making the cost go down. So on the whole, LED lamp beads prices will continue to decline. Under the dual push of competition and market development, downstream small-pitch products are also bound to follow the price reduction.
Indoor small-pitch commercial display representative - LED Digital poster display
As small-pitch products gradually enter the indoor commercial display market, new forms of application are also emerging. Increased clarity has given more possibilities for closer display. At present, high-end shops have begun to use small-pitch LED screens to show product advertisements, and some manufacturers have also launched corresponding retail solutions in a timely manner. Among them, LED poster screens are the first to become commercial products for mass manufacturers.
The LED poster screen is a new product developed by YUCHIP specifically for the needs of indoor commercial display in the LED display market. The new products developed are ideal for use in various occasions, such as shopping malls, small events, auto shows, product launches, stage performances, concerts, and other occasions.
The characteristics are as follows:
1. It has no complicated setup, has easy connection and it supports WiFi, RJ45, USB, etc. Support synchronous and asynchronous.
2. Ultra-high-definition image-quality display and the refresh rate can reach 3840Hz, P1.9, P2.5, P3 optional.
3. It is a perfect product to replace LCD advertising. It can be used for indoor display and can also be used for brighter outdoor places.
4. Front maintenance for LED Module, greatly improving maintenance efficiency.
5. A variety of installation methods, such as hanging, standing, splicing display, creative oblique installation and other shapes.
It is believed that the LED Poster screen will have a lot of room for development, and it is only a matter of time to replace LCD. For more information about LED Poster screen prices or details, please visit the YUCHIP website.
In the field of indoor LED display in addition to LED poster display, there are many products gradually replacing the LCD, and more and more forms are appearing, such as curved-surface LED display, four-sides LED display, cylindrical LED display, ball LED display, and so on. Because of the structural advantages, it is not difficult for manufacturers to produce LED display screens with different shapes such as curved surfaces, 90 degrees and folded surfaces, which also enables smaller pitches to meet commercial display requirements than other display products. With the excellent display effect, and the increase of production capacity and lower product prices, the small-spacing LED products will have a great effect in the indoor display market. YUCHIP believes there will soon be more excellent LED display products entering the commercial LED display area. Let's wait and see.
About YUCHIP
As one of the earliest professional LED Display Manufacturers in China, YUCHIP has 15 years of technical experience. We have passed the ISO9001 system certification. Products are sold worldwide, and we have offices in Italy, Malaysia, Singapore and Poland. Our greatest aspiration is to come up with the most creative and high-quality products. YUCHIP has a 20-person R&D team that has developed a wide range of products for various application scenarios, such as taxi LED displays, indoor ultra-HD LED display, outdoor small-pixel-pitch rental LED display, sphere LED display, dual-maintenance LED display, LED poster, transparent LED screen, etc.
Constant innovation, focusing on quality, is what we will always do.
Contact Person:
​Eric Zheng
Email: manager@yuchip.com
Tel: 0086-755-33503180
Websites: https://www.yuchip-led.com and https://www.ledonlinesale.com
Source: YUCHIP
Related Media
Related Files
Additional Links