Youth Service America Announces Winners of Its Youth Save Halloween 2020 Campaign
Press Release
•
updated: Oct 26, 2020
Winners to Receive Party Pack Grants of Candy, Costumes, and Decorations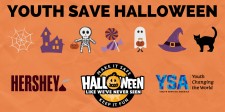 WASHINGTON, October 26, 2020 (Newswire.com) - Youth Service America (YSA) today announced 50 recipients of its Youth Save Halloween 2020 campaign. YSA activated its national network of partners to call on teens to help their communities find safe ways to celebrate Halloween this year - utilizing Halloween & Costume Association's safety guidelines and celebration ideas. The winning groups will receive party packs of candy, costumes, and decorations this week.
YSA is proud to award 50 grants to support celebrations across the country. Grantees are expected to collectively engage 2,000+ youth volunteers who will organize celebrations for 10,000+ participants.
YSA received more than 330 applications that highlighted many creative ways teens are keeping the spirit of the season alive this year. Steve Culbertson, YSA's President & CEO, remarked, "It was so amazing reading these applications. It's clear that America is suffering right now, and the creative solutions offered are truly heartwarming." To view the full list of recipients, please visit: YSA.org/Halloween.
To help fuel the campaign, YSA partnered with The Hershey Company, Halloween & Costume Association, and Party City USA. Partners provided both funding and product donations to the campaign to help the teen winners bring their celebration ideas to life.
"At Hershey, our brands have always been part of special moments and longstanding traditions for our consumers, with Halloween topping the list of one of our favorite times of the year for our company," said Chuck Raup, President U.S., The Hershey Company. "We believe youth are powerful community connectors and are proud to partner with YSA and the Halloween & Costume Association to support safe and youth-led Halloween celebrations this year."
Learn more at YSA.org/Halloween.
###
YSA (Youth Service America) is a leading nonprofit that activates young people, ages 5-25, to find their voice, take action and acquire civic and 21st Century skills as they solve problems facing their communities. www.YSA.org. Contact.
The Hershey Company is the Halloween candy leader with three of the top five seasonal brands—Reese's, Hershey's & KitKat. Most important this year is helping families and communities have fun and safe Halloween celebrations. Hershey is proud to partner with the Halloween Costume Association to promote www.Halloween2020.org safety guidelines and offer creative ideas from crafts, games and baking at www.hersheyhappiness.com.
The Halloween & Costume Association is the ultimate authority for all things Halloween. This year, almost everything in our world has changed … but not our love for the fun, fright, and delight of Halloween. The HCA has some new tricks in their bag of treats this year and has launched a new resource that features the Official Trick or Treat Guidelines as well as a ton of alternate ways to SAFELY celebrate Halloween 2020! Visit www.Halloween2020.org.
Party City Holdco Inc. is a popular one-stop shopping destination for party supplies, balloons, and costumes. The Company's retail operations include approximately 850 specialty retail party supply stores throughout North America and online at PartyCity.com.
Source: Youth Service America