Work Together to Help Young People, Communities, and Democracy Thrive on Global Youth Service Day
Press Release
•
Apr 28, 2022
Youth Service America Supports & Celebrates Youth Changing the World During 34th Annual Global Youth Service Day (April 29-May 1, 2022)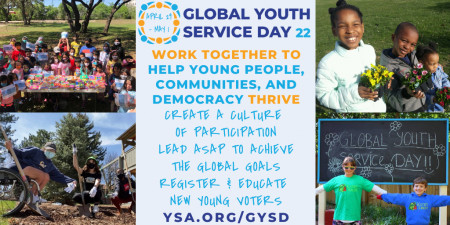 WASHINGTON, April 28, 2022 (Newswire.com) - Global Youth Service Day (GYSD) - the largest youth service and civic action event in the world - will be celebrated in over 400 communities across the country this weekend. GYSD is part of Youth Service America's work to achieve 50% Youth Participation by America250 (the Semiquincentennial on July 4, 2026) and make working together for the common good, the common expectation, and common experience of every young person.
Youth Service America (YSA) awarded grants to 400 schools, youth programs, and nonprofits across the country for GYSD activities:
46 GYSD Lead Agencies are leading citywide or statewide partner coalitions to engage thousands of youth in service activities.
139 Hershey Heartwarming Young Heroes Grantees are leading community-building activities to foster meaningful connections, promote inclusion, and teach empathy.
102 Sodexo Stop Hunger Foundation Youth Grantees are addressing the hunger crisis by organizing food drives and fundraisers, growing healthy food in community gardens, teaching about healthy eating on a budget, and more.
60 YSA Afterschool Grantees are engaging their students in service-learning projects as part of their afterschool programs.
26 Allowance Grantees sponsored by Hillshire Farm SNACKED! are making a difference in their community through projects led by 4th-6th graders.
27 Youth Service Zone Grantees sponsored by AmeriCorps are culminating a year of partnership- and capacity-building activities.
A map of all grantees and local project organizers is available at GYSD.org.
On Global Youth Service Day, YSA calls on everyone to help young people, communities, and democracy thrive.
Create a Culture of Participation - Celebrate young leaders, help youth join and lead, and build capacity for the future.
Lead ASAP to Achieve the Global Goals - Lead Awareness, Service, Advocacy, or Philanthropy projects to achieve the United Nations Sustainable Development Goals.
Register & Educate New Young Voters - Organize voter registration activities, educate voters, and advocate for policy change.
Tell YSA about your Global Youth Service Day plans. If you register a project/activity on GYSD.org by May 1, post on social media using #GYSD22, and submit an impact report by May 20, you will be eligible to be selected for a GYSD Award of $100 or $250.
Global Youth Service Day is powered by Youth Service America with funding from The Hershey Company's Heartwarming Project, Charles Stewart Mott Foundation, Sodexo Stop Hunger Foundation, and The Allstate Foundation.
###
YSA (Youth Service America) believes that youth, communities, and democracy thrive when we all work together for the common good. YSA activates young people, ages 5-25, to find their voice, take action and acquire powerful civic and 21st-century skills as they solve community problems. YSA supports its activation campaigns with grants, training and resources, and recognition programs for young people and their adult champions. Youth-led projects use Awareness, Service, Advocacy, and Philanthropy (ASAP) strategies to create change. www.YSA.org
Press Contact: outreach@ysa.org
Source: Youth Service America