20,000+ Youth Will Make the MLK Day of Service 'A Day On, Not A Day Off'
Press Release
•
updated: Jan 14, 2021
Youth-Led Activities to Focus on COVID-19 Response & Recovery, Hunger, Racial Equality & Social Justice, Economic Opportunity, and Climate Change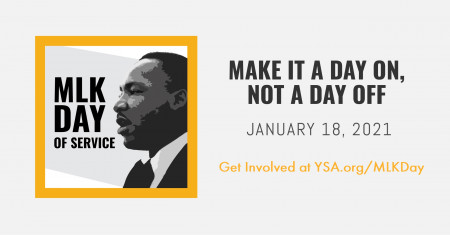 WASHINGTON, January 14, 2021 (Newswire.com) - More than 20,000 young people, ages 5-25, will honor Dr. Martin Luther King, Jr.'s life and teachings by engaging in community action projects for the 26th Annual MLK Day of Service on Jan. 18. Youth-led service activities will be organized by 30 local nonprofits, schools, and youth development programs across the country that have been designated as local partners by Youth Service America (YSA). Each of these organizations have received up to $3,000 in grant funding provided by The Allstate Foundation to support their projects.
Parents, educators, caring adults, and youth leaders can plan service projects with their families, classes, groups, and peers using ideas and resources from YSA.
Plan service activities at home, virtually or safely in-person.
Choose one of 20 Coronavirus Response & Recovery project ideas.
Make projects inclusive and equitable with antiracism prompts and tools.
Attend an on-demand Create-Your-Own Youth Service Institute training to learn how to plan future projects.
Start a Semester of Service project in school-based and afterschool programs.
Find additional ideas and planning resources at www.YSA.org/MLKDay.
"We are thrilled to collaborate with The Allstate Foundation to support our Lead Agency partners across the country to empower youth to be leaders in their communities at a time when the country needs everyone to work together for the common good," said Steven A. Culbertson, President and CEO of YSA. "They are putting the core American principles of citizenship and service into action. We expect youth-led projects will reflect their deep concerns about the pandemic, hunger, racial equality, economic opportunity, and climate change."
The Allstate Foundation champions service-learning and social and emotional learning programs, like YSA's National Days of Service, that support youth in school, after school, at home, and in their communities.
"In light of the multiple challenges our country faces - from COVID-19 to social justice issues - this year's MLK Day of Service is especially poignant and its message is even more vital," said Francie Schnipke Richards, vice president, The Allstate Foundation and Societal Innovation. "We believe young people have the power to build the just, equitable, and healthy world we all deserve. We are proud to partner with YSA and organizations across the country to empower millions of youth who are changing the world for the better through service learning."
YSA's work to engage young people on National Days of Service - MLK Day of Service (Jan. 18, 2021), Global Youth Service Day (April 23-25, 2021), and 9/11 Day of Service (Sept. 11, 2021) - is also supported by The Charles Stewart Mott Foundation and Hasbro Children's Fund.
The Allstate Foundation accelerates positive change by empowering and educating the most vulnerable, inspiring today's visionaries and promoting community leadership. More information on The Allstate Foundation is available at AllstateFoundation.org and by following @AllstateFDN on Facebook, Twitter and Instagram.
Source: Youth Service America
Additional Links