Yieldstreet's take on art investing trends in 2023
Press Release
•
Feb 23, 2023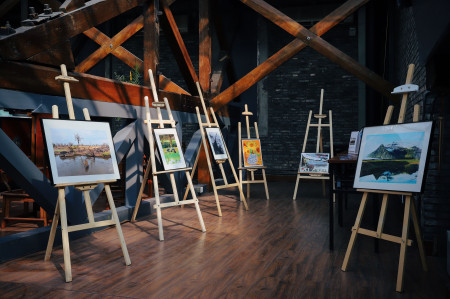 NEW YORK, February 23, 2023 (Newswire.com) - Portfolio diversification can take a number of different forms. For example, alternative investments in fine art with a platform like Yieldstreet could broaden an investor's asset mix. However, one must be rather well-informed to invest in art successfully.
To that end, these art investing trends can provide some useful insights for investors.
The Rise of Digital Art
The advent of NFTs—non-fungible tokens—is one of the paradigm shifts that emerged during the COVID-19 pandemic. Applied to the art market, NFTs provide a record of authenticity as well as ownership. They also provide a means for artists to sell directly to collectors. Artists can receive royalties when works are resold with NFTs too.
According to the 2022 Art Basel and UBS Global Art Market Report, art-related NFT sales expanded from $4.6M in 2019 to $2.6B by the end of 2021. What's more, there is currently more interest in collecting NFTs by high-net-worth (HNW) collectors than there is from traditional galleries in representing them.
This could represent a sizable opportunity, in that 88% of surveyed HNW collectors expressed an interest in purchasing NFT-based artworks in the future.
Recognition of Under-Represented Artists
There has been a significant increase in interest in the works of African-American, African-British and continental African artists. This is owed in part to what has been termed a "long overdue correction." After all, African-American artists had produced a mere 1.2% of the works held in American museums in 2019.
Many of these institutions have since made concerted efforts to recruit African-American advisors to their boards of directors. This development, also fueled by the social consciousness inspired by the Black Lives Matter movement, has awakened a significant increase in the demand for the works of artists of African descent.
According to analysts at Artprice, the first inklings of this became evident in 2016, when "Plunge," a work by African-American artist Kerry James Marshall, sold for $2.16M at Christie's New York. Marshall's "Past Times" then garnered $21.1M at Sotheby's New York in 2018.
Fractional Ownership
According to the Artprice 100 index, art investments have outperformed the S&P 500 over the past 23 years, with returns of over 360%. Fractional ownership can add a pool of artworks by blue chip, mid-career, and emerging artists to an investor's portfolio with one investment.
Fractional ownership can also take a lot of the guesswork out of investing in art. The best funds employ third-party appraisals and expertise, backed back analysis from companies like Athena Art Finance, which has funded more than $400M in fine art investments.
While contemporary artworks can be prohibitively expensive for mainstream investors, the concept of fractional ownership, like peer-to-peer lending, can put more costly investments within easier reach.
These three art investing trends bode well for the future of art as an asset class. Those with a passion and an appreciation for art who are willing to do the research may find some outstanding opportunities in today's art market.
Source: Yieldstreet