Xrisp Receives Positive Responses at 2022 ARCH Summit
Press Release
•
Nov 21, 2022
Xrisp gives demonstration of realistic XR experience, NORI CUBE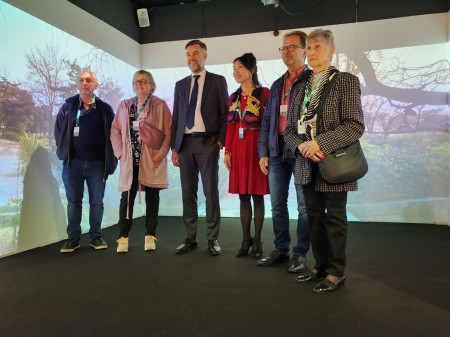 LUXEMBOURG, November 21, 2022 (Newswire.com) - Xrisp Co., Ltd. (CEO Son Dae-Kyun) participated in the ARCH Summit held at LuxExpo The Box in Luxembourg from Nov. 26 to 27th and achieved great results. Xrisp developed a realistic XR metaverse platform, NORI CUBE, which allows users to enjoy 360-degree VR content in cube space without head mounted displays such as VR headsets.
The ARCH Summit was hosted by the Luxembourg government and Tomorrow Street (Vodafonoe). About 10 Korean companies, including Xrisp, participated in this event, which was attended by more than 90 global partners, about 70 countries around the world, and more than 100 startups, along with Google and Huawei.
Xrisp set up a NORI CUBE experience booth and invited families of lUxembourg's Korean War veterans to watch videos specially produced by Luxembourg's Economy Minister (Franz Fayout) and Luxenbourg's Korean President (Park Mi-Hee) and talked with them.
Sohn Dae-Kyun, CEO of Xrisp, said, "NORI CUBE, which allows XR experience through space, will provide a virtual reality experience in a different form from VR and AR that uses headsets and goggles," then added, "We have finished installation of NORI CUBE global number 1 in the NORI Digital Kids Center located in Germany, Frankfurt, Skyline shopping center, and we are planning the expansion to European market starting from Luxembourg."
Meanwhile, NORI CUBE is currently undergoing a project to build a metaverse education room at the Future Education Center in Busan and is set to open in December this year.
Source: Xrisp