XiO, Inc. Announces Representation Agreement With Trippensee Shaw, Inc. to Serve Florida's Water and Wastewater Market
Press Release
•
updated: Sep 2, 2020
The agreement promises unparalleled cloud-based SCADA industrial controls technology to municipal and industrial facilities throughout Florida.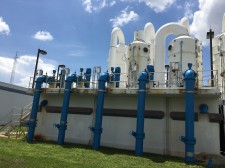 SAN RAFAEL, Calif., September 2, 2020 (Newswire.com) - XiO, Inc., a pioneer in cloud-based SCADA systems announced it has signed an agreement with Trippensee Shaw, Inc., a premier water and wastewater equipment manufacturer's representative in Florida. The partnership offers Trippensee Shaw's extensive customer base unparalleled IIOT technology designed to leverage data, view trends, produce reports, and optimize process control while simplifying operations and saving money.
"The partnership between Trippensee Shaw and XiO comes at the perfect time to satisfy the need for smarter, more robust and secure process control systems," says XiO CEO Malcolm Thompson. "XiO's market-leading technology is enabling customers to maintain consistent operations during these unprecedented times by leveraging remote work capabilities and optimizing processes. Trippensee Shaw's deep understanding of the ecosystem and complementary product offerings allows us to provide enhanced control, improved security, and greater reliability to municipalities throughout Florida. Leveraging Trippensee Shaw's installed base of customers and reputation for support will make us a tough team to beat."
XiO's Cloud SCADA® System provides real-time monitoring and control of water systems at a fraction of the cost of traditional SCADA. XiO's patented field technology and cloud-based user interface makes critical system data and controls available anytime, anywhere via web-enabled devices, while providing enhanced security from cyber threats. Available in standard or custom configurations, all systems are modular, scalable, and pre-configured for easy installation. Powerful analytics provide operators with actionable information at their fingertips, giving staff insights to make data-driven decisions and better manage resources. Full system remote control capabilities promote telework options for employees while enhancing system resiliency in the face of natural disasters.
Trippensee Shaw is a trusted manufacturer's representative organization offering sales and service for process equipment, pumps, and innovative solutions for municipal and industrial water and wastewater markets throughout Florida. For over 40 years, Trippensee Shaw has built a reputation as the leading provider of high-quality products and solutions to thousands of municipal clients. Trippensee Shaw combines the expertise of Todd Shaw, P.E., and Fred Trippensee, both of whom have worked in the process equipment industry for several decades. Trippensee Shaw offers sales and service through two dedicated regional offices in Northern Florida and Southern Florida.
XiO, Inc., is an IIOT solution provider with patented products for remote monitoring, control, and actionable analytics to manage equipment and resources.
Trippensee Shaw, Inc., is a manufacturer's representative organization offering sales and service to the municipal drinking water and wastewater sectors in Florida.
Source: XiO, Inc.
Related Media