100 Percent of US Aims to Prevent School Shootings While Uniting Folks on Both Sides of the Political Divide
Press Release
•
updated: Aug 26, 2022
The movement's website boldly states, "While we don't agree on much, 100% of US agree kids should not be murdered at school."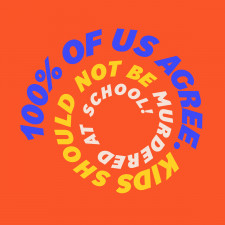 PORTLAND, Ore., August 26, 2022 (Newswire.com) - 100 Percent of US, a grassroots campaign launched to prevent school shootings, aims to unite members of the two leading political parties to combat gun violence in American schools. The non-monetary, non-affiliated movement leverages empathic messaging, with the phrase, "While we don't agree on much, 100% of US agree kids should not be murdered at school," featured on the official website.
Mariah Gray, the campaign's founder and a parent to a school-aged child, admits that the copy is raw and more difficult to hear than "gun violence in schools."
"If we can't say 'kids should not be murdered at school,' because it's too graphic, how can we continue to let it happen over and over again?" said Gray. "It's upsetting to think this may be the one sentence the electorate can agree on, but any alignment among voters is a step in the right direction."
100PercentofUS.com launched just in time for back-to-school season, a period when millions of American students return to the classroom to further their education. The movement asks participants to write two letters to two key Congressmen - Senate majority leader and New York Senator Chuck Schumer, and Kentucky Senator Mitch McConnell, who also serves as the minority leader of the United States Senate.
The movement encourages participants to urge Congress to take immediate action to prevent future school shootings and fully protect students. Letter templates are available at 100PercentofUS.com, along with mailing addresses for Senators Schumer and McConnell.
Participants are asked to wait until Oct. 1 to mail their letters.
"In September, I'll send Senators Schumer and McConnell each a letter informing them what's coming their way October 1st. It will be a lot harder for them to ignore 10,000 letters arriving all at once, than if letters trickle in over a few months," said Gray.
The backbone and distinguishing characteristic of the campaign is a promise not to discuss politics in order to maintain solidarity among liberal and conservative participants.
"We're not telling Congress how to stop school shootings, but when to do it. We demand Congress enact further legislation to fully protect students from school shootings—and to do it by a deadline of November 1st, 2022. If they don't meet our demands, it will influence how we vote on November 8th," said Gray.
For more information and to get involved in the bipartisan movement, please visit 100PercentofUS.com.
About 100 Percent of US
100 Percent of US is a non-monetary, non-affiliated, grassroots movement comprised of Americans seeking action from our legislature on the issue of school shootings.
Contact Information
info@100percentofus.com
Source: 100 Percent of US
Tags
Related Files