100 Percent of US — a Grassroots Campaign Launched to Prevent School Shootings — Demands Immediate Action From Congress
Press Release
•
Sep 19, 2022
The movement's message to the U.S. Senate: "We demand Congress enact further legislation to fully protect students from school shootings — and to do it NOW."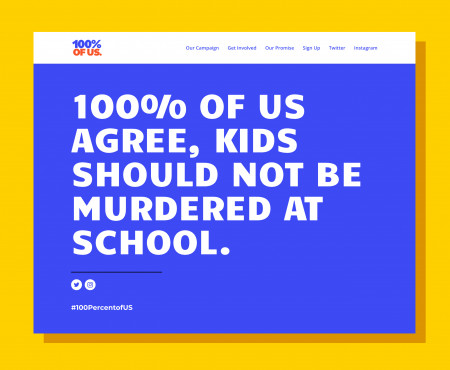 PORTLAND, Ore., September 19, 2022 (Newswire.com) - 100 Percent of US strives to unite Americans around the urgent need to prevent school shootings. The campaign asks progressives, conservatives, and everyone in-between to acknowledge, "While we don't agree on much, 100% of US agree kids should not be murdered at school."
The campaign founder and mother, Mariah Gray, launched 100PercentofUS.com over the summer, as millions of parents prepared to send their kids back-to-school. "School shootings should not be a political issue. If folks from the entire political spectrum agree kids and teachers should not be murdered at school, then Congress has their marching orders—it's time they devise and implement effective legislation to prevent 100% of school shootings across the country," said Gray.
The backbone of the campaign is a promise not to discuss politics in order to maintain solidarity among participants. "Our campaign is not telling Congress how to stop school shootings, we're telling them when to do it. We demand Congress enact further legislation to fully protect students from school shootings by a deadline of Nov. 1, 2022."
100PercentofUS.com encourages participants to write letters to two key Senators urging Congress to take immediate action to prevent future school shootings. Letters should be mailed to majority leader and New York Senator Chuck Schumer, and Kentucky Senator Mitch McConnell, who serves as the minority leader of the United States Senate.
October 1st—the date on which participants should mail their letters is quickly approaching.
For more information or to download letter templates and get involved in the bipartisan movement, please visit 100PercentofUS.com.
About 100 Percent of US
100 Percent of US is a non-monetary, non-affiliated, grassroots movement comprised of Americans seeking action from our legislature on the issue of school shootings.
Contact Information
Info@100PercentofUS.com
Source: 100 Percent of US
Tags
Related Files