Writer/Producer/Director Josh Becker Presents 'If I Had a Hammer' at the Laemmle Music Hall 3
Veteran writer/producer/director Josh Becker will screen his film "If I Had a Hammer" starring Lisa Records and Brett Beardslee and co-starring Susan Reno and Kristian Monday. This iconic film will be showcased at the Laemmle Music Hall 3 located at 9036 Wilshire Blvd, Beverly Hills, CA from May 25-31, 2018.
Press Release
-
updated: May 14, 2018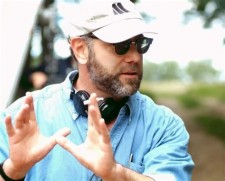 BLOOMFIELD, Mich., May 14, 2018 (Newswire.com) - "If I Had a Hammer" was written, produced and directed by Josh Becker. The film was co-produced by Jane Goe, a seasoned veteran of the film industry, who also co-produced Becker's feature film Running Time. Goe has worked on several of Steven Spielberg's films including: "Jurassic Park," "Schindler's List," and "E.T." Native Detroiter Kurt Rauf was the DP for "If I Had a Hammer"; the film was scored by Joseph LoDuca, with sound editing and mixing at Harvest Sound.
This movie captures the epic change that occurred in America in the 1960s. The stage was set the weekend the Beatles made their appearance on the "Ed Sullivan Show." This masterfully written script provides an excellent commentary on American life at the very edge of transformation.
If I Had a Hammer has a young and talented cast. The main characters are portrayed by Lisa Records and Brett Beardslee, who give a delightful and honest performance which contributes to the overwhelming charm of this cinematic gem. The film has been compared to Orson Welle's "The Magnificent Ambersons" and also to the legendary George Lucas's "American Graffiti."
View the Trailer for the film at https://vimeo.com/268647169
"As the screenwriter, this script allowed me to explore the development of these characters in my own way," states Becker. "Viewers will be intrigued as I lead them deep into the world of two individuals whose lives are about to be turned on edge. The creative freedom I found in exploring these characters was outstanding."
Tickets can be purchased at https://www.laemmle.com/films/?title=If%20I%20Had%20a%20Hammer&sort=title&limit=40
To receive the full Press Kit for the film please contact Melinda.kollins@gmail.com
About Josh Becker
Josh Becker has written and directed five independent feature films: "Thou Shall Not Kill… Except"; "Lunatics: A Love Story"; "Running Time"; "If I Had a Hammer"; and most recently "Morning Noon and Night". He has also directed nine episodes of "Xena: Warrior Princess", as well as the pilot TV movie for the series "Hercules: The Legendary Journeys." Becker's television movie "Alien Apocalypse" (2005), which he both wrote and directed, was SyFy Network's highest-rated original movie ever. Becker's "Stan Lee's Harpies" premiered on the SyFy Network in 2007.
Becker has also written three published books. His first book "The Complete Guide" to "Low-Budget Feature Filmmaking" was published in 2006 and is now in its second edition. His second book "Rushes: Essays on Film" was published in 2007, followed by "Going Hollywood" which was released in 2009. Becker is a native Detroiter and has attempted mentor to aspiring young filmmakers through his website Beckerfilms.com.
Source: Curtis & Associates
Share:
---
Categories: Movies
Tags: actors, film producers, filmmaking, movie directors, movies, screenwriting, theatrical releases
---