Wrapmate Launches Interactive Tesla Cybertruck Wraps Configurator
Press Release
•
Jun 28, 2023
Tesla Cybertruck owners can choose from nearly 100 colors and have Wrapmate's massive network of 2,000 installers execute the wrap anywhere in the country.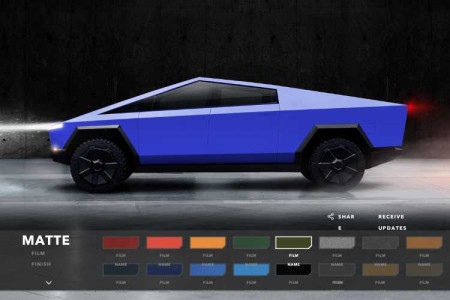 DENVER, June 28, 2023 (Newswire.com) - After Tesla CEO, Elon Musk, said: "Cybertruck can have any color you want, so long as it's nothing," that Henry Ford-like statement led Wrapmate to create a solution to allow customers to personalize and stand out from having a "nothing" colored Cybertruck.
Wrapmate's interactive Cybertruck wrap configurator and e-commerce-like experience allow customers to unlock new opportunities to design and purchase vehicle graphics from the comfort of their homes, just like they bought their Cybertruck.
"We are extremely excited to launch our Tesla Cybertruck wrap configurator to help consumers visualize their wrap," says Javier Lozano, Jr., Chief Marketing Officer of Wrapmate. "Wrapmate is the first and only national vehicle graphics company that offers customers the ability to place a no-risk, fully refundable, Initial Project Deposit. This gives them a highly personalized Cybertruck wrap created and designed by our world-class, in-house design team."
Customers will be able to showcase their new Cybertruck utilizing best-in-class 3M vinyl material. 3M™ Wrap Film offers nearly 100 colors, textures, and finishes. Plus, individuals can add more personalization to their Cybertruck with a one-of-a-kind designed wrap. Whether it's to promote a business brand or simply make their plain, blank Cybertruck standout - a professionally designed wrap will garner immense attention.
To try Wrapmate's interactive Cybertruck wraps configurator visit https://cybertruck.wrapmate.com. Tesla Cybertruck wraps by Wrapmate will be available for purchase by mid-summer of 2023.
About Wrapmate
Wrapmate is a technology-driven managed marketplace that is reimagining the buy-and-sell experience in the vehicle graphics industry. With innovative customer interaction and a network of 2,000+ local installation service providers, Wrapmate efficiently serves business owners, fleet managers, franchises, and consumers coast-to-coast. Learn more about Wrapmate's vehicle wraps solutions at https://wrapmate.com.
Source: Wrapmate
Related Media