World Peace is Comedy: Tanzanian Comic Writes About Life in America
Press Release
•
Mar 26, 2015
African born comedian Ed Blaze talks about using comedy to cross cultures with the western world and his funniest experiences as a Tanzanian living in the United States in his new autobiography "World Peace is Comedy."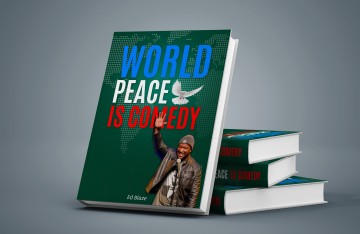 New York, NY, March 26, 2015 (Newswire.com) - Growing up as a kid in Africa where opportunities were limited, Ed Blaze made his friends laugh to pass the time in school, not realizing that comedy would be his calling later in life. Blaze's first book World Peace is Comedy chronicles his childhood in Africa and his life as a stand-up comedian in America, travelling and performing his way across the United States, working with comic legends such as Dave Chappelle, Bill Cosby, Ralphie May, and Jim Gaffigan. The author also talks about a passion for charity, and the motivating belief that comedy is a healing force for people of all races and backgrounds.
"My name is Ed Blaze. I used to have an African name and I thought it was great," quips comedian Ed Blaze. "Until I came to America and found out it was just a bunch of random letters strung together."
Blaze weaves his hilarious misadventures as a Tanzanian living in America into his stand-up comedy, offering a fresh style of wit and humor that is an outlandish mix of observations on the cultural differences between his homeland and the western world, as well as unique commentary on topics like politics, race, pop culture, and sexuality. Blaze's comedic influences include Eddie Murphy, Ricky Gervais, Richard Pryor, Dave Allen, Dave Chappelle, Louis C.K., Chris Rock, Lewis Black, and George Carlin. For more information, or to watch Ed Blaze in action, visit www.edblaze.com.
Get a digital download or signed hardcover copy of the first edition of "World Peace is Comedy" by Pre-Ordering $10 or more to the official Comedy is World Peace Kickstarter Campaign. Or give your perk as a gift to another recipient! Special incentives also include free comedy tickets, dinners, and an invitation to the official book launch party in New York.
"I back a lot of projects on Kickstarter," said Blaze. "Everyone can be part of this campaign even if they cannot donate. A quick tweet or status update can have a big influence. Let people know why you're supporting us and please make sure to tag #WorldPeaceIsComedy. Thank you!"
Related Media