Working Together for Quality Child Care: CACFP Showcase
Child and Adult Food Care Program (CACFP) Provider Michelle Baggett of Cincinnati, OH featured by National CACFP Sponsors Association.
Press Release
-
updated: Mar 1, 2017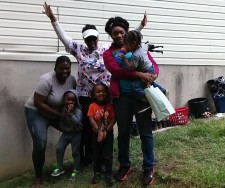 Austin, TX, March 1, 2017 (Newswire.com) - ​​​​​​​​​When Michelle Baggett received a note from school stating  her nephew was having a difficult time understanding his schoolwork, she immediately began tutoring. As he went from failing to passing, the idea grew of how much she enjoyed helping him and making a difference in a child's life. It was a calling she couldn't ignore, so she decided to discontinue her work in criminal justice and open her own home child care program. 
Parents play a pivotal role in the program. Every other month, Michelle holds a parent advisory board meeting. Parents volunteer to come and are welcome to bring the kids with them. During the meeting, they participate in menu planning, assist with upcoming activities, and even try new group exercises. Each family also discusses their fruit and vegetable challenge from home where they have tasted new produce and share recipes. 
Every summer, all the families meet for the big garden planting event. They each choose a few seeds to plant and tend to. The produce is then shared and eaten both at the home child care and at individual homes. The parent advisory board is even considering taking the garden to a new level, with a grant from the Board of Health, establishing a hydroponics garden growing fruits and veggies year-round. 
As she begins transitioning children for kindergarten, she works with not only parents, but also with the teachers and schools that the kids will be entering. Michelle understands that by involving parents in her home child care and belonging to a community, the children know that everyone needs to work together to learn and grow. From this togetherness, Michelle has given the children the sense of security and confidence to keep moving forward throughout their learning.
CACFP is an indicator of quality child care. When children are cared for by providers who are part of the CACFP program they are receiving the best nutrition available. Learn more about other CACFP providers featured in our Member Showcase at our website, www.cacfp.org.
Since 1986, the National CACFP Sponsors Association (NCA) is the leading national organization for sponsors who administer the USDA Child and Adult Care Food Program (CACFP). We provide education and support to thousands of members in the CACFP community and in particular to sponsors of all sizes from across the country. We strive to improve communication between families, care givers, sponsors, and their supervising government agencies.
Source: National CACFP Sponsors Association
---
Categories: Nutrition, Child Care, Pre-School, Education
Tags: afterschool, CACFP, childcare, daycare, education, healthy, preschool, provider, sponsors, USDA
---