Working to Help Establish New Regulations to Protect Investors Expropriated in Slovenian Bank Bail-In
Press Release
•
updated: Nov 18, 2016
VZMD President Meets with the President of the Slovenian National Assembly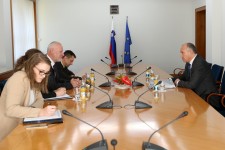 Ljubljana, Slovenia, November 18, 2016 (Newswire.com) - The President of the National Assembly of the Republic of Slovenia (National Assembly), Mr. Milan Brglez, and associates from his office officially received Mr. Kristjan Verbič, President of the PanSlovenian Investors' & Shareholders' Association (VZMD) on November 10th.
The National Assembly was recently ordered by the Slovenian Constitutional Court (the Court) to remedy provisions of the Banking Act that the Court found unconstitutional by promulgating a legal regulation to ensure efficient judicial protection of investors in Slovenian banks who were expropriated during the Slovenian bank bail-in.
Mr. Verbič met with Mr. Brglez to discuss the Court-ordered regulation. During his meeting with Mr. Brglez, Mr. Verbič presented VZMD's proposed starting points for the regulation. VZMD's proposals were based entirely on existing legal provisions - specifically the Employment Relationships Act, the Labor and Social Courts Act, Court Fee Act, and the Non-litigious Civil Procedure Act. Mr. Verbič also stressed that in accordance with the Court's intent, the Ministry of Finance should not be the only government ministry involved in drafting the new legislation, especially since it was the ministry behind the original legislation that the Court found unconstitutional. VZMD emphasized that the Ministry of Justice should be actively involved in drafting the new special regulation to protect investors.
Mr. Verbič described the high-level reception as "an exceptionally positive signal in addressing and settling many burning issues for shareholders and investors, the Slovenian investment environment and climate, the functioning of the financial and capital market, and the general economic structure in the Republic of Slovenia.
About VZMD
For over a decade, VZMD has endeavored to improve legal and other frameworks pertaining to investors and the investment environment - on the Slovenian as well as European level. During this period, VZMD representatives and associates have actively attended numerous meetings and committees of the working bodies of the National Assembly, as well as many presentations, meetings, expert consultations and conferences in Slovenia and abroad.
The PanSlovenian Investors' & Shareholders' Association (VZMD) http://www.vzmd.si/, was founded to protect the rights of minority shareholders and retail investors and is led by its President Mr. Kristjan Verbič (Verbic@vzmd.si). Mr.Verbič is on the Board of The European Federation of Investors and Financial Services Users, http://www.betterfinance.eu/, a member of the Corporate Finance Standing Committee of the European Securities and Markets Authority and a member of World Federation of Investors.
Source: PanSlovenian Investors' & Shareholders' Association (VZMD)
Related Media