With the New Year Comes Wishes for More Clarity and the Akashic Records Can Help | Encinitas/San Diego
The new year brings up so much for so many folks, and the Akashic Records can be a great support. The long shrouded mystery of the infinite resource of the Akashic Records is now available for all to access to heal, uplift, and enrich their lives on every level. It helps folks in their home, with themselves, with business, and more.
Press Release
-
Dec 23, 2015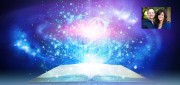 Encinitas, CA, December 23, 2015 (Newswire.com) - Journeying into the Akashic Records, This is a FREE Intro Workshop, Soul of Yoga, 627 Encinitas Boulevard, Encinitas, Ca, Saturday, January 16th, Free, 2:00 pm - 4:00 pm.  Register now! This will for sure fill up. 
Thrive in the Brilliance of Your Heart and Soul
Long shrouded in mystery the infinite resource of the Akashic Records is now available for all to access to heal, uplift, and enrich our lives on every level.
"I just wanted to take a moment today to send you and Paul a THANK YOU for this weekend! I loved being part of this experience, and meeting everyone on the (Akashic Records) class. You and Paul are beautiful souls, and amazing teachers!!"
Join Paul & Holly Marwood for this interactive introductory presentation about the Akashic Records where participants will learn:
How anyone and everyone can access this vast storehouse of Soul Level knowledge and information
How it is much MORE than an exploration of Past Lives
How anyone can access the

Akashic

Records of your pets, home, business, and more.
Participants will enjoy the experience of being taken on a guided journey into their own

Akashic

Records using the sacred & safe method of the Pathway Prayer Process© 
Holly is an Advanced Certified Akashic Record Teacher & Reader and is impassioned to share the spiritual gifts of healing and transformation that are available to everyone through their interaction with the Akashic Records. She is excited to share the multitude of ways the exploration of this Soul Level resource can assist anyone in the healing, release, and understanding of who they are in this moment. We can move to the place of Thriving that we are all seeking as we mine the incredible resource of the Akasha.
For more information please call Holly@Soul-Genesis.com  (760) 803-4297
---
Categories: Active and Healthy Living, Personal Growth, Education
Tags: Akashic Records, Business, Clarity, Family, Help, Home, Personal Growth, Pets, Soul of Yoga, Support, Understanding
---