Winnipeg, Manitoba, Canada, Company Captures Third-Place Prize
Press Release
-
Oct 19, 2016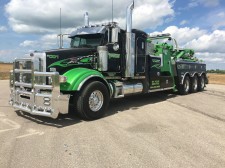 WINTER SPRINGS, FL, October 19, 2016 (Newswire.com) - ​Champion Towing Ltd. of Winnipeg, Manitoba, Canada, captured the Third-Place Prize for Heavy-Duty Truck in the national Shine 'n Star Tow Truck Photo Beauty Contest, hosted by Tow Times magazine and powered by Ford Trucks.
The winner is a 2005 Peterbilt 378 with a Century 1140 rotator unit. It sports a custom black and Camaro green metallic factory paint job that's also applied to the rotator's components. Other features include a custom HERD moose bumper, Whelen light bar, M6 lights, LEDs and strobes around the truck. 
The family-owned company is operated by brothers Gary and Danny Mangat, who started in the towing and recovery industry in 1995. Their Peterbilt was chosen out of 550 entries submitted in five categories this year from around the country and Canada.
The Shine 'n Star Tow Truck Photo Beauty Contest third-place award adds another notch to Champion Towing, which began with one heavy-duty wrecker and has grown to over 13 vehicles in seven years. Champion Towing services the Winnipeg, Manitoba area, as well as Saskatchewan and Northwestern Ontario.
The annual Shine 'n Star Tow Truck Photo Beauty Contest – celebrating 25 years in 2016 – taps into towing operators' pride in their fleet, providing an opportunity to show off the beauty and brawn of their equipment. Like many tow truck owners and operators, Champion Towing loves its trucks.
The Shine 'n Star national tow truck photo beauty contest offers 16 cash prizes, with third-place winners such as Champion Towing also featured in a future issue of Tow Times magazine.
For more information about the Shine 'n Star Tow Truck Photo Beauty Contest, contact Tow Times' Publisher Clarissa Powell at 407-936-2491 or email cpowell@towtimesmag.com.
Reach Danny Mangat of Champion Towing, Winnipeg, Manitoba, Canada, at 204-999-6061.
Source: Tow Times magazine
---
Categories: Business News, Transportation and Logistics, Transportation
Tags: Ford, towing and recovery, transportation, trucking
---