Wilcom International Launches Their Flagship Product Line EmbroideryStudio E4
Software advancements increase creativity and improves efficiency for embroidery professionals
Press Release
-
updated: Apr 7, 2017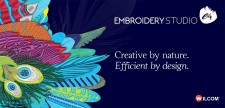 Sydney, Australia, April 7, 2017 (Newswire.com) - Wilcom International, the leaders in professional embroidery and multi-decoration software, announced today the launch of their new flagship product line EmbroideryStudio e4. The Designing and Decorating product models are bundled and fully integrated with latest CorelDRAW® Graphics Suite X8, making this the most powerful multi-decoration software for professional digitizers, custom embroidery shops, industry trainers and educators and apparel decorators.
A new graphics approach to professional digitizing opens the door to many newcomers. Whilst increasing the capabilities and productivity of experienced digitizers, enhanced tools improve the creative capabilities as well as dramatically saves time when creating or editing designs.
The exciting news in this major new version is the unveiling of Embroidery Studio's Order Job Feature and incredible new Integrated Design Library. They have integrated all the customer details, job information, special notes and more into their unique .EMB design file. The result is that all the customer information and job history relating to a design is instantly at your fingertips. There is no longer a need to manage all this information in a separate database. Wherever the design file goes, so does the information.
"It was very satisfying seeing our customers and dealers so excited and impressed with the new e4 software. They very much appreciate how it makes their job quicker and easier. We provided real solutions to real problems they face daily in their business.", said Bill Wilson - Chief Product Officer.
Denis Quaintance, Managing Director of Wilcom said, "EmbroideryStudio e4 is the result of extensive discussions with industry partners and customers, working closely together to provide them with embroidery software which greatly improves the productivity of their business. Wilcom is fully committed to providing the best commercial embroidery software available to the industry and e4 represents another important step forward in both creativity and efficiency."
Watch the EmbroideryStudio e4 intro video - https://www.youtube.com/watch?v=IIOXCrn0gUc
About Wilcom International:
In 1979 Wilcom's founders shared a vision for automating the embroidery industry that has changed the way people create and produce embroidered goods.
Wilcom has led the industry with ongoing innovations that push the boundaries of creativity in personalized expressions and apparel decoration. With a reputation for excellence, Wilcom has become the world's favorite embroidery software for ease-of-use, quality and service.
Wilcom is present in over 100 countries with products in over 12 languages and has a global community of more than 250,000 licensed customers.
For more information visit www.wilcom.com or contact marketing@wilcom.com.
Source: Wilcom International
Share:
---
Categories: Computer Software, Fashion and Apparel, Computer Aided Design and Manufacturing (CAD/CAM), Textiles
Tags: Barudan, Corel, CorelDRAW, craft, design, embroidery, fashion, machine embroidery, Tajima, thread, Wilcom, Wilcom International
---