Why Fall Is the Best Time to Travel to North Carolina
Press Release
•
updated: Sep 29, 2017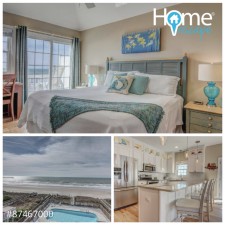 MIAMI, September 29, 2017 (Newswire.com) - North Carolina is beautiful any time of the year, but especially so during fall. Explore the Appalachians to the Outer Banks. North Carolina has some of the highest mountain peaks in the eastern U.S. and 482 kilometers of shoreline.
It's home to hundreds of waterfalls, two national forests and dozens of lakes, rivers and streams. A true four-season state, six weeks' worth of foliage dapples the mountain region each year. Drive the Blue Ridge parkway, sample quality time in a quaint town, or eat your heart out with barbecue, biscuits and gravy.
What else is there to do? Explore the breathtaking views the range offers while hiking, camping, rafting or zip lining. Along the coast, make time to relax or find adventure. Dive into water sports, including kiteboarding, surfing, stand-up paddle boarding or kayaking. Climb historic lighthouses or aboard a historic battleship.
When to Go to North Carolina
Because the state's climate is affected by altitude, when you visit North Carolina depends entirely on where you are going. The Gulf Stream keeps temperatures mild in the Southern coastal areas, while the cold Labrador Current from the North can make the state's Northern area quite cold and snowy in winter.
One of the best parts about visiting North Carolina in the fall is that you can find great deals on vacation home rentals, beach houses, and cabins. Whether you are looking for Outer Banks vacation rentals, Surf City vacation rentals, or Charlotte vacation rentals, HomeEscape has affordable options. HomeEscape allows guests to book rentals directly from owners, without booking fees or processing fees.
Where to Go in North Carolina
So now that you know that North Carolina is the place to be, where exactly should you visit? HomeEscape has some of the most beautiful vacation home rentals and cabins in the state, check out some of these cities to make the most of your vacation: Surf City, Franklin, North Topsail Beach, Asheville, Charlotte, and Outer Banks to name a few.
Asheville is a great place to visit on vacation. Nestled in the western mountains of North Carolina, Asheville's reputation as an alternative mountain hideaway precedes itself. Come for the scenery, and stay for the food. Book a private Asheville vacation rental for a comfortable and relaxing stay.
Asheville has some of the best vacation rentals in North Carolina, perfect for you to spread out and relax with your family. Whether you want a large home to center activities in or a small cabin for a romantic getaway, Asheville is the place to go.
Franklin, North Carolina has some of the most beautiful cabins and lodges on the east coast. Not to mention, Franklin has the honor of being the gem capital of the world – so put your mining boots on! Families can enjoy the mountains and nearby hiking trails in Franklin. So unplug, and enjoy the great outdoors! Use HomeEscape to find great deals on Franklin, North Carolina cabin rentals.
Come to the Outer Banks for a relaxing family vacation on the beach. The Outer Banks has been enjoying unseasonably warm fall weather, so now is a perfect time to enjoy the waves while also benefiting from autumn vacation rental prices.
About HomeEscape: HomeEscape connects homeowners and property managers with travelers who seek the space, value and amenities of vacation rental homes as an alternative to hotels. With detailed property descriptions, photos and list of amenities and nearby attractions, HomeEscape makes it easy to find and compare properties all over the world.
Source: HomeEscape
Tags
Additional Links