What 'Shazam for Brands' Means for Promotional Paper Cups
Scyphus had earlier written on QR Codes on Cups and Augmented Reality experiences extended to paper cups. They have written on how 3.3 Million UK consumers scanned a QR code in the 2nd Quarter of 2012, and this is what you needed to make the user engage, interact and convert into a customer much more easily. But since then technology has moved further ahead and we have Shazam to replace QR.
Press Release
-
updated: Aug 22, 2017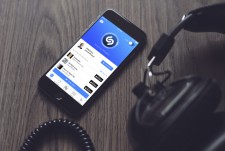 Northampton, UK, August 22, 2017 (Newswire.com) - Five years ago, smartphones were almost unheard of. Now, it seems that everyone has one. In fact, most people can't imagine their lives without one!
"We have discussed QR Codes and augmented reality apps and how customers could take advantage of QR codes on their cups to keep their customers better engaged and keep adding value to your service and thus, in the end, add more value to your brand. But it seems the original QR has now been taken over by a new revolution, the Shazam." - Leslie Carr
Smartphones have revolutionised the way people communicate, travel, read, eat, shop or even listen to music. Information is just a mobile app away. Which makes advertising a whole lot easier. As many businesses are aware, traditional advertising is becoming less and less effective. Customers these days want to discover information for themselves, not have it presented to them. And they want it given to them in a fun, innovative way.
They also want it now - at the click of a button. To get the customer's attention, businesses must think smart. They have to think of ways to actively engage with their audiences that are snappy, quirky and interesting. And fast. And the most effective way of engaging with any modern audience is through a mobile phone.
Reaching Customers Through Mobile Apps
In the beginning, there were QR codes. Now there's Shazam. Shazam is a sharing network that allows people to connect other listeners by discovering, exploring and sharing their favourite music or TV programmes. In the 10 years since its launch, Shazam says that it has connected more than 1 billion people around the world. It's available for Apple and Android, and promises to continue growing.
Music recognition software like Shazam is nothing new. However, its technological developments have made an enormous impact on the way people share information. Although Shazam began as a simple song discovery tool, it's now taking the networking to the limit by connecting artists and fans. At present, users can scan anything from radio play to TV commercials to print ads.
Recently, Shazam's technological prowess jumped another notch. It has just released Shazam For Brands: a fascinating new way to make everything "Shazam-able."
How Shazam for Brands Works
Applications such as Shazam For Brands have opened the door to a whole new way of advertising. It's about connecting the 'mobile' world with the real world.
Like a QR code, Shazam connects potential customers to information, resources and various social media outlets. This makes for a fast, efficient engagement between scanning and receiving a result.
There are several basic steps involved in 'Shazam-ing.'
Audio Shazaming
1. The customer hears music playing somewhere – for example, in a store – and they want to know the name of the song or the artist.
2. Using their mobile phone, they start the Shazam app and tap the button.
3. The app creates a 'digital fingerprint' of the audio material.
4. Within mere seconds, the audio is matched against Shazam's database, which includes millions of songs and TV shows.
5. The customer then receives the name of the track, lyrics, the name of the artist and their biography, and a range of recommended tracks. They also have the option of buying the track or checking out concert tickets.
Visual Shazaming
1. The customer sees a poster or TV ad for a product – for example, a smartphone. However, the poster doesn't give any information about the price or specifications.
2. To get the information he or she wants, the customer simply starts the Shazam app on their mobile phone. They tap the camera icon and scan the Shazam camera logo or QR code on the poster.
3. Shazam! The information the customer wants about the product is sent directly to their phone.
How's that for smart?!
Big Brands Are Already Shazaming
A multitude of big-name corporations are already sold on the Shazam concept, including the mighty Coca-Cola. Last year, Coca-Cola's "Share a Coke and a Song" promotion launched the first-ever Shazam-enabled bottles. Users would purchase a specially-marked bottle, and then scan the lyrics and signage. This allowed them to record a digital lip-sync video. They could then share their song creation on social media by using the hashtag #ShareaCoke.
Simple, but brilliant – and the world loved it.
The Benefits of "Shazam for Brands"
At present, Shazam's network comprises more than 500 million users all over the world; 100 million of these are active monthly users. So, what does Shazam do for brands?
- The "visual search" feature allows advertisers to reach their target audiences more personally than ever before
- The ability to send information to a customer as per their request is novel and makes a greater impact
Users can explore interactive content
- Customers can be sent exclusive offers
- Customers can make purchases directly through the app
- Companies don't have to spend thousands on developing customised apps
The "Shazam-ing" of Paper Cups
In recent years, the use of paper cups as advertising space has taken the world by storm. Large corporations now recognise the humble paper cup as a mobile advertising campaign – and for good reason.
Takeaway coffees are sold by the millions around the world every day. That means a paper cup is seen and handled more than any poster or TV advertisement. And when a company's logo, image or slogan is printed on a cup, it gets noticed. So why not jump things up a notch and make them interactive as well?
The implications for 'Shazam-able' paper cups are huge. When advertisers add a Shazam feature to their product or packaging, they get a whole new insight into consumer demand. As Shazam has shown, the ability for consumers to receive information about a product via a mobile app is exciting, innovative and hugely appealing.
More importantly, it creates audience engagement like never before. It's the ultimate toolset for advertisers to interact with their consumers and understand more clearly what they want from a product. It also provides a means of collating a database of their audience's needs and desires.
Customers are already scanning posters and cereal boxes; so why not paper cups?
Features of a Shazam-able Paper Cup:
- A company has their brand printed on a paper cup along with a "Shazam" code
- A customer purchases the cup with their takeaway coffee
- When the beverage is finished, the customer is left with a company's brand name in their hand
– And a code offering them information, a deal or even a freebie
Using coffee as "bait," the customer is now reeled in. Simple, but effective. And powerful.
Source: Scyphus, UK
Share:
---
Categories: Food and Beverage Manufacturing, Food and Beverage Services, Packaging, Timber, Wood and Paper, Paper Products
Tags: brand identity, brand management, branded coffee cups, branded paper cups, printed coffee cups, shazam
---