What is This Storybook Experiences and Why is All of Long Island Talking About It?
Press Release
•
updated: Dec 20, 2016
Storybook Experiences is all everyone talking about in all the schools, mommy groups and plastered on all the social media channels.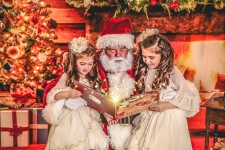 West Islip, New York, December 20, 2016 (Newswire.com) - ​​​It's likely you've heard about it on the playground, at a PTA meeting or you have seen all the incredible buzz on all the social media sites. Storybook Experiences has quickly become the favorite destination for Long Island families.
Greg and Kristen Pitre, a husband-and-wife creative powerhouse behind Santa Experiences, had long thought of how they could translate the magical world of storybooks into an unforgettable, real-life magical experiences. They firmly believed that taking a forced picture on Santa's lap, meekly participating in Easter Egg Hunts, or rarely seeing a dress-up character at birthday parties was simply not enough to stimulate kids' imagination. They were quickly proven to be right, as Storybook Experiences' groundbreaking services started making waves across Long Island in record time. So much so, that their family-owned business that started out of their home has earned coverage by large media outlets, such as Fox News and has been featured Long Island's number one paper Newsday.
The company's Santa Experience and Easter Egg-perience have been met with a incredible response and enthusiasm by kids and adults alike, the company is expanding its range of services to include other amazing experiences for children, such as the Princess Experiences, Mermaid Experience, Pirate Experience, Fairy Experience and so much more.
With thousands of satisfied parents and happy children eager to attest to the one-of-a-kind events hosted by Storybook Experiences, the company pledges to develop many more new experiences, to give both children and parents the opportunity to create memories that are sure to last a lifetime.
Storybook Experiences now hosts all of its events in the company's newly acquired West Islip building called Storybook Studio, to accommodate the ever-increasing demand for even participation. The Pitre's have created this magical place that mimics a Disney experience. From the moment a guest walks in, one is transformed to a different place. It really is truly amazing. Due to the ever increasing demand for their magical experience they are in the process of expanding operations and scouting out a second location in Nassau County.
To learn more about Storybook Experiences, visit Storybook Experiences Facebook page. To get on next year's early notification list, go to SantaExperiences2017.com. Their early bookings open in January but don't wait too long they sell out extremely fast!
Contact:
Gregory Pitre
475 Montauk Highway
West Islip NY, 11795
631-888-6060​
StorybookExperiences.com
support@storybookexperiences.com
Source: Storybook Experiences
Related Media
Additional Links