West Roofing Systems, Inc. Plays Pivotal Role in Rehabbing Homes in Cleveland's Slavic Village
Ohio's commercial roofing company of choice teams with Rebuilding Together and Building a Healthy Neighborhood to repair and paint two roofs in aged community.
Press Release
-
updated: Nov 15, 2016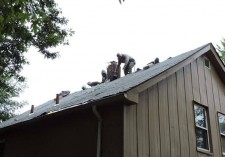 Lagrange, Ohio, November 15, 2016 (Newswire.com) - ​West Roofing Systems, Inc., often referred to as Cleveland, Ohio's commercial roofing company of choice for installing high-quality SPF roofing systems, recently had its hand in heartfelt charity work when company representatives assisted Rebuilding Together, a northeast Ohio organization that revitalizes local communities.
In continuing to revitalize Cleveland's Slavic Village, Rebuilding Together received assistance from West Roofing Systems in the areas of painting some of the homes and repairing of a roof in the neighborhood, with additional assistance coming from Building a Healthy Neighborhood and The Roofing Industry Alliance for Progress.
"Originally, a contractor was assigned to this Slavic Village project who eventually backed out – so we were called in and stepped up to the plate for this great cause," explains Jack L. Moore, Jr., president and CEO of West Roofing Systems. "It only took us one week to get this job into our schedule, taking into account the last-minute notice, then two days to complete, with all time and materials donated by West Roofing Systems personnel. We also helped, in no small measure, with the painting of some of Slavic Village's homes due to their heights, as our techs that were already on-site had their protective gear on and were experienced with painting at formidable heights."
Rebuilding Together began in 1973 as a small group of individuals in Midland, Texas who recognized a growing need in their community to help their neighbors rehabilitate their homes. News of the group's volunteer work spread slowly, but eventually achieved national recognition until Rebuilding Together was formed and a national office was opened in 1988.
Today, Rebuilding Together is a leading national nonprofit in safe and healthy housing with more than 40 years of experience to its credit – together with corporate and community partners, the group transforms the lives of low-income homeowners by improving the safety and health of their homes and revitalizing their neighborhoods.
"We are so very thankful that West Roofing Systems stepped up to the plate and assisted with materials and labor on this Slavic Village project," says Bennett Judson, executive director of The Roofing Industry Alliance for Progress. "On behalf of the roofing industry as a whole, we sincerely appreciate the effort Jack Moore and his team put into refreshing homes that had fallen into disrepair and helping the homeowners who could not afford to fix them on their own."
West Roofing Systems, Inc. was established in 1979 and has installed over 50 million square-feet of commercial and industrial roofing, with universities, hospitals, schools, government buildings and theaters illustrating the variety of architecture experience and projects in its portfolio.
With a satellite location in Tunnel Hill, Georgia, West Roofing Systems' headquarters are located at 121 Commerce Drive PO Box 505 in LaGrange, Ohio, and can be reached by calling (800) 356-5748. For more information visit www.WestRoofingSystems.com.
Source: West Roofing Systems, Inc
---
Categories: Business to Business, Maintenance and Repair, Facilities Maintenance & Management, Roofing, Business News
Tags: Commercial Roofer Cleveland, Commercial Roofing OH, Commercial Roofing Ohio
---