Weeks Roses Introduces Seven New Rose Varieties for Spring 2017
New rose varieties from America's premier rose grower feature beautiful flowers and improved disease resistance
Press Release
-
updated: Feb 16, 2017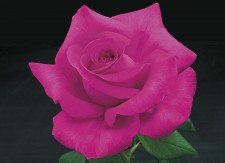 Wasco, CA, February 16, 2017 (Newswire.com) - For Spring 2017, Weeks Roses is introducing seven new roses to its extensive line of popular garden roses. The new rose varieties for 2017 and many other popular roses grown by Weeks Roses in California are available at garden centers and select mail order vendors nationwide.
"Weeks Roses has built a reputation and a strong international following for its unique rose introductions," said Christian Bedard, Research Director of Weeks Roses. "All of our plant varieties are field tested for flower color and form, flower production, cold hardiness and disease resistance. Weeks Roses celebrates the rose as an enduring part of gardens everywhere."
All My Loving™
Leading off the list of new roses from Weeks Roses is All My Loving, a beautiful hybrid tea rose created in England by the talented breeder Gareth Fryer. The long cutting stems of All My Loving™ are great for bouquets, and the plant's excellent vigor guarantees a profuse production of blooms.
In true hybrid tea fashion, one stunning dark pink blossom sits atop each long cutting stem. The large 4- to 5-inch flowers have 30 to 40 petals. Whether All My Loving™ is planted in sunny California or in a colder, rainy climate, the color will stay true until the petals drop and the plant will reward gardeners and homeowners with a show of attractive, semi-glossy medium green leaves. This variety features many hybrid improvements including disease resistance and bloom longevity. 
Cupid's Kisses™
Roses are certainly one way Cupid spreads love around the world. The aptly named Cupid's Kisses™ is a climbing rose, but it is shorter and more compact than full-size climbers. This new variety brings just the right height (up to 8 feet tall) to more confined areas of a landscape, and it is a good choice for container planting.
The two-inch-wide flowers have a distinctive "pink lipstick" hue that contrasts nicely with the white on the base of each petal and the yellow centers. The prolific flowers are produced in medium-sized clusters, and the pink and white blooming show continues until late in the fall. Cupid's Kisses™ is quick to establish itself in the garden, and its "patio climber" size makes it a welcome addition to almost any yard.
Children's Hope™
Children's Hope™, a new Spring 2017 variety from Weeks Roses, is a delightful and prolific bloomer that supports the Children's Brain Tumor Foundation. Every medium red, double-petal blossom is a reminder that each child is a beautiful flower. The blooms are childlike and dainty, measuring just 1.5 to 2 inches in diameter in large clusters that can cover the entire plant.
This Polyantha Shrub rose has a compact habit that makes it ideal for small spots in the landscape as well as decorative containers on a balcony or patio. It grows well in most climates throughout the USA, and it has very good disease resistance.
Every sale of a Children's Hope™ rose bush helps to support the treatment, quality of life and the long-term outlook of children with brain and spinal cord tumors through the research, education and advocacy of the Children's Brain Tumor Foundation. For more information visit http://www.cbtf.org.
Tropical Lightning™
Tropical Lightning™ is a new full-sized climbing rose with good disease resistance. The tropical warmth of this exotic-colored new rose is generated by a unique flower that's a combination of sunset orange and a purple smoke layer accented with cream colored stripes. The colors mix together differently on every flower, creating a pleasing striped effect that's stunning in any garden setting.
The canes of this climbing rose reach 10 to 12 feet tall, so Tropical Lightning™ is both big and dramatic. Each perfectly shaped flower holds its crazy color for days, and the prolific plant only slows down the flowering as it cools down for winter. This variety is new for Spring 2017 from Weeks Roses.
 Easy To Please™
Easy To Please™ is the newest addition to the Easy-To-Love® Collection of roses from Weeks Roses. This easy-to-maintain pink Floribunda rose bush boasts blooms that are fuchsia pink with a lighter reverse. The flowers are 2 ½ to 3 inches in diameter with 20 to 30 petals each.
The plant's medium-sized growth habit makes it easy to fit into most gardens. Best of all, Easy To Please™ is easy to grow and maintain because its disease resistance surpasses many landscape shrubs. This variety grows well in a wide variety of climates and conditions. The prolific flowers have a fragrance of cloves with hints of cinnamon, and the vigorous plant is truly easy to love. 
Edith's Darling™
Edith's Darling™ is the third addition to the popular Downton Abbey® Garden Rose Collection from Weeks Roses. This new variety is a fitting tribute to the Lady Edith Crawley character and her beloved daughter, Marigold, from the popular British television drama Downton Abbey.
The Edith's Darling™ flowers are a soft apricot-gold color that slightly darkens toward the center of the bloom. Each full, old-fashioned 2.5- to 3-inch blossom boasts 50 to 65 petals. The fragrance is much like a fruity, fresh-cut apple. Small, with a compact bushy habit, an Edith's Darling™ rose bush is the perfect choice for containers or for a tidy spot in the garden where a show of fragrant, full-sized blooms can be viewed up-close.
Violet's Pride™
Violet's Pride™, the fourth and final addition to the Downton Abbey® Garden Rose Collection, is named for Lady Violet, the feisty Dowager Countess of Grantham as portrayed by Maggie Smith on the popular Downton Abbey TV show.
The lovely lavender blossoms of Violet's Pride™ are made even more exquisite by a magenta-colored heart decorating the inner petals. This prolific bloomer produces spiraled, medium-large double blossoms with 35-45 petals. Worthy of winning any Best of Show title, Violet's Pride™ boasts a fruity fragrance with a hint of grapefruit. The flowers are held proudly on top of a vigorous, evenly rounded bush with disease resistant dense foliage.
For more information about the new rose varieties available from Weeks Roses, visit www.WeeksRoses.com and the Weeks Roses Facebook page at www.facebook.com/WeeksRosesCA.
For high-resolution photos or additional information, contact Randy Schultz at 505-822-8222 or schultz@schultzpr.com
Source: Weeks Roses
Share:
---
Categories: Gardens and Landscape, Agriculture and Horticulture, Suburban Living
Tags: garden, gardening, landscaping, new, plants, rose, rose bush, rose bushes, roses
---