Summit Chemical and Target Specialty Products Donate BTI Granules to Help Fight Mosquitoes in Hurricane Aftermath
Press Release
•
Oct 27, 2021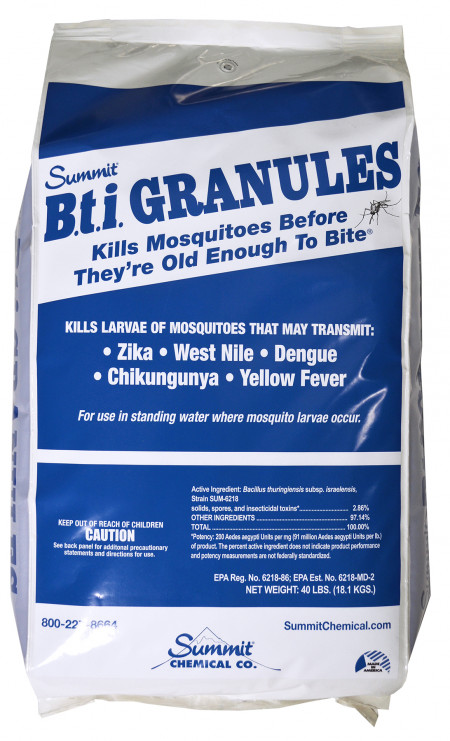 BALTIMORE, October 27, 2021 (Newswire.com) - Summit Chemical Company has joined with Target Specialty Products (a leading provider of pest control and pest management solutions) to help prevent the spread of disease-carrying mosquitoes in flood-ravaged areas hit hard by Hurricane Ida and other deadly storms.
Hurricane Ida made landfall on August 29 near Port Fourchon, Louisiana, almost due south of New Orleans. The slow-moving hurricane stalled over southern Louisiana and brought massive rainfall to the area. The heavy rains created flooding and large areas of standing water, which provides perfect breeding grounds for disease-carrying mosquitoes. Hurricane Ida caused an estimated $95 billion in damage, making it the seventh costliest U.S. disaster since 2000.
Summit Chemical and Target Specialty Products recently donated over 6,000 pounds of Summit® BTI Granules to treat those flooded areas that have become prime mosquito breeding areas.
"Summit Chemical is proud to support the public health efforts to protect people from dangerous mosquito populations," said Jonathan Cohen, President of Summit Chemical Company. "We know the key to preventing mosquito-borne diseases is controlling mosquito breeding grounds. Eliminating standing water where mosquitoes lay their eggs and using BTI products such as Summit® BTI Granules in standing water that cannot be drained are crucial to preventing further storm-related tragedy."
David Helt, President of Target Specialty Products, said, "Target Specialty Products is committed to protecting our community and public health as a whole. In an effort to support those who have been affected by hurricane Ida, we have proudly partnered with Summit Chemical Company to combat the increasing mosquito population."
A Natural Way to Target Mosquitoes
The active ingredient in Summit® BTI Granules is Bacillus thuringiensis israelensis (BTI), a naturally occurring bacterium that is widely accepted as one of the safest biological larvicides currently available in the control of mosquitoes. Summit® BTI Granules provide an efficient, cost-effective and environmentally friendly method of controlling mosquito larvae.
The BTI in Summit® BTI Granules kills mosquito larvae before they can emerge as flying, biting adults. Even though BTI is deadly to mosquito larvae, it is harmless to people, plants, pets, fish, wildlife, and beneficial insects.
For homeowners that need to treat standing water to kill mosquito larvae, Mosquito Bits® and Mosquito Dunks® (a sustained-release form of BTI) are available in the USA and Puerto Rico at home centers, garden centers, hardware stores and online retailers. Visit www.summitchemical.com for more information.
Mosquito Dunks® and Mosquito Bits® are registered trademarks of Summit Chemical Company.
About Target Specialty Products
With over 80 years of industry experience, Target Specialty Products is proud to be a leading value-added solutions and service provider of pest control, vector and turf and ornamental solutions, application and aquatic equipment, supplies and education and training programs. Target Specialty Products serves the Vector, Pest and Turf and Ornamental Management markets from 44 locations across the United States and Canada. For additional information, visit www.target-specialty.com.
Source: Summit Chemical Company
Related Media