Wed-Tech and Wedding Style Combine for Easy Wedding Day Fashion
Press Release
-
updated: Sep 7, 2017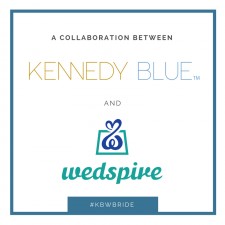 LAS VEGAS, September 7, 2017 (Newswire.com) - Bridal fashion and WedTech have come together for a successful partnership between Wedspire and Kennedy Blue (KB). Launching Sept. 6, 2017, all KB products and services will be available through Wedspire's shoppable inspiration marketplace. See storefront here.
"We're thrilled to have the opportunity to partner with one of the industry's top bridal brands. Kennedy Blue is innovating the way bridal fashion is discovered and purchased, which is a huge benefit to millennial couples and mirrors the ideals behind Wedspire's innovation for the entire wedding community. We get to offer our brides gorgeous designs and options for every personality, style, taste, and budget. While Kennedy Blue gets to join our vast community, having such a strong bridal partner work with us to take our innovation to the next level and offer something very unique to their couples, is the perfect marriage." Afeisha James Kipps, Wedspire Co-Founder, CEO
KB was drawn to the business model of Wedspire and their ability to make life easy for engaged couples. Whether you are a modern, classic or bohemian bride; looking for everything from a cake to a venue; Wedspire offers shoppable inspiration via the click of a button. Every couple's dream feed is filled with curated Pinterest-style wedding inspiration to help discover the best wedding day professionals and services to create the wedding of their dreams wherever they are located within the U.S. and Canada.
"After ironing out all of the details to prepare for this successful partnership, we are ready to showcase the Kennedy Blue line on Wedspire. Brides all around the states have been enjoying the convenience of shopping for bridesmaids dresses online and trying them on at home. We are excited about this opportunity with Wedspire to provide both our followers with convenience, affordability, and style." said Jimmy Fritz, Kennedy Blue CEO.
Wedspire's innovative WedTech Marketplace is the go-to platform to purchase all your wedding day services and products in one place. By partnering with KB, they have expanded their offerings to include an array of fashion services including bridesmaid dresses, Bridal Gowns, and accessories. Engaged couples will be able to find their favorite KB styles including Jade, Wren, and Morgan, as well as the entire 2017 fashion line. Wedspire's Netflix-style recommendations and personalized matches will help couples easily find the right style to match their day.

KB has come together with Wedspire by incorporating the unique features of their wedding fashion services into the online marketplace. Not only can you search styles, share your favorites with friends and family, and shop directly from the site, but now you can also have your choices shipped to your home to ensure the perfect fit and ensure that your wedding day is a dream come true!
About Wedspire:
Wedspire is an exciting two-sided, curated marketplace for all your wedding planning needs. It is our mission to take the 'stress' word out of wedding planning, by giving couples Netflix-style recommendations and personalized matches. Filled with inspiration and planning tips, Wedspire helps turn couples' ideas into reality.
About Kennedy Blue:
Most of the wedding industry hasn't changed in decades, leading to overpriced products and frustration for millions of couples. Kennedy Blue was created to provide an alternative. We follow 2 basic philosophies: We only sell our products on our website and through trusted retailers who share our vision. All of our products are designed in-house with the help of customer feedback. We're able to provide high-quality designer dresses at reasonable prices, that customers can guarantee will fit by trying on first with our At Home Try-On program. See our vision in action by visiting our exclusive retailer the Wedding Shoppe in Saint Paul, Minnesota. There, Kennedy Blue dresses are available in almost every size and color, allowing bridesmaids to toss out the tape measure and try their favorite styles on for themselves. Wedding shopping doesn't need to be complicated. Customer Feedback + Creative Thinking = Great Dresses at Affordable Prices!
Source: Wedspire
---
Categories: Business News, Fashion and Apparel, E-Commerce and e-Business, Fashion, Weddings, Fashion and Apparel Industry
Tags: Bridal Fashion, Business Partnerships, Fashion, Technology, Wedding, Wedding Planning, Wedding Technology
---