Warm Materials Inc. is Looking to Turn Back Time With Its Newest Kickstarter Product, WOODSUM Pinhole Camera
DIY Wooden Accessory Kit makers, Warm Material Inc. has just unveiled their newest product, Woodsum Pinhole Camera, on Kickstarter. Woodsum Pinhole Camera is made from high-quality wood and is finished with a UV coat. The retro design and nostalgic photo effect make Woodsum Pinhole Camera a DIY item that can be kept for a long time.
Press Release
-
updated: Nov 21, 2018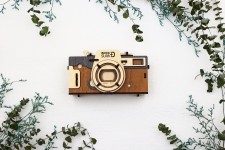 NEWPORT BEACH, Calif., November 21, 2018 (Newswire.com) - DIY Wooden Accessory Kit makers, Warm Material Inc. have just unveiled their newest product, Woodsum Pinhole Camera, on Kickstarter and have obtained their funding goal in under eighteen hours. 
Woodsum Pinhole Camera comes as a DIY assembly kit comes with high-quality wood parts that users connect to create a real working camera. The product comes with a detailed instruction booklet that is easy-to-read. Each wooden module is precut and no tools or glue are necessary during the assembly process. Kickstarter backers can select from five different wood finishes for a classic camera look. Woodsum Pinhole Camera also contains a screw at the base that allows it to be mounted on a tripod.
Woodsum Pinhole Camera works similarly to other 35mm film cameras. Simply load the 35mm film into the back of the camera, then wind the film roll by turning the knob on top, and press the shutter button to take a photo. Depending on the time of day, the shutter button needs to be pressed continuously for 3, 5, or 7 seconds. The resulting photo contains a vintage look that may serve to draw out feelings of nostalgia. 
When not in use, Woodsum Pinhole Camera can also serve as a stylish interior decor. While other DIY objects tend to be thrown out soon after assembly, the utility and retro design of this camera make it a timeless piece.  
"The rapid evolution of technology has made our lives so much easier. However, through this progression, I noticed that our society lost touch with the art of creating and doing things by hand. This was especially true with photography and so, I decided to create Woodsum Pinhole Camera so that users can re-experience the satisfaction of analog photography." says Warm Materials Inc. Founder & CEO Su-Hyun Hwang
Woodsum Pinhole Camera is now available on Kickstarter with early bird prices starting at $43. After the campaign, Warm Materials Inc. anticipates manufacturing and delivery to commence by the end of March 2019. Any influencers or journalists interested in receiving a sample and reviewing Woodsum Pinhole Camera are encouraged to submit an inquiry through its Kickstarter page.
Source: Warm Material Inc.
Share:
---
Categories: Hobbies and Crafts
Tags: analog camera, camera, crowdfunding, DIY, Kickstarter, pinhole camera, wooden camera, Woodsum, Woodsum Pinhole Camera
---