WAMC Reaches Its $1 Million Goal in Honor of Retired CEO Alan Chartock
Press Release
•
Jun 8, 2023
WAMC/Northeast Public Radio completed its June Fund Drive on Thursday, June 8, 2023, exceeding its $1,000,000 goal to sustain the station's award-winning news and cultural programming.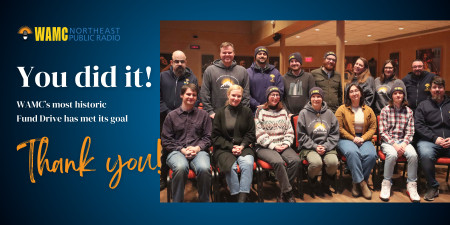 ALBANY, N.Y., June 8, 2023 (Newswire.com) - It was the first drive returning to on-air fundraising live with volunteers on location since the pandemic.
With the recent retirement of President and CEO Alan Chartock, WAMC's founder and leader for over 40 years, listeners pledged in honor of Dr. Chartock's work and in support of the future of the station. A record number of sustaining memberships and first-time donors was a remarkable accomplishment for WAMC. The station proudly partnered with community organization The Food Pantries For The Capital District, helping to provide over 75,000 pounds of food to those in need.
WAMC thanks listeners for contributing to the June Fund Drive for their generosity and support of the station's future.
WAMC's Interim CEO Stacey Rosenberry said, "On behalf of the entire station, I want to thank everyone who listens and pledges for believing in WAMC. You continue to stand with public radio and help champion educational programming. This platform for local and regional journalism is stronger than ever. Thank you."
WAMC's Board President Dorothy Reynolds added, "Congratulations to the entire WAMC family for the wonderfully successful Fund Drive! We board members are in awe of the dedication and commitment that enabled the station staff to raise $1 million in two short weeks of on-air morning solicitations. The timing of the fund drive coincided with the retirement announcement of WAMC's long-time leader and founder, Dr. Alan Chartock. We thank WAMC's many donors for honoring Alan and his extraordinary accomplishments, so generously. Going forward, the board has great faith in the WAMC team to uphold the remarkable legacy that Alan left us and to shape the station's future so it continues to meet the needs of its listeners."
After four mornings of appealing for support on-air, news anchor and "Vox Pop" host Ray Graf shares, "We never had a doubt that our listeners would be there. And there they were."
Joe Donahue, the host of "The Roundtable," added, "This was the most meaningful Fund Drive I have ever been a part of. We honored Alan on his retirement and our listeners showed their love and appreciation for the station he founded and the community he created. It was beautiful!"
WAMC is a listener-supported station fueled by individual contributions. Its Fund Drives occur three times a year: February, June, and October. Each drive's goal is to support the general operations of WAMC/Northeast Public Radio. WAMC broadcasts the highest quality programs from NPR, American Public Media, BBC World Service as well as a wide range of award-winning local programming.
If you're interested in finding out more about our Fund Drives or donating or volunteering, please contact Amber Sickles at 1-800-323-9262 ext. 133.
Source: WAMC Northeast Public Radio