Wainlux Announces Launch of Wainlux K8 - The Laser Engraver for Everyone
Press Release
•
Jul 17, 2023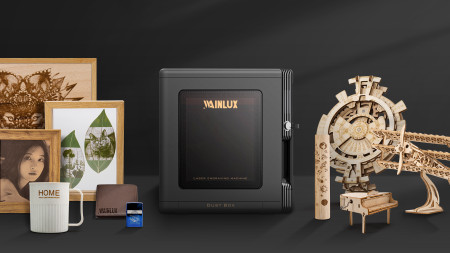 HONG KONG, July 17, 2023 (Newswire.com) - Wainlux, a leading innovator in cutting-edge technology, is thrilled to announce the launch of the Wainlux K8, a versatile and user-friendly laser engraver and cutter designed to bring ideas to life. This remarkable device offers a range of features and benefits that will elevate the DIY projects to new heights of creativity and precision. The Wainlux K8 is set to empower individuals with the tools they need to unleash their imagination. Learn more: https://www.kickstarter.com/projects/wainlux-laser-tech/wainlux-k8-the-fast-and-powerful-laser-engraver
The Wainlux K8 sets itself apart with its ability to engrave on a wide range of materials, including stainless steel, paper, wood, leather, and acrylic. Its maximum true laser power of 10W ensures efficient and high-quality engraving results. With an astonishing engraving precision of 0.01mm, users can achieve intricate and detailed designs that truly stand out. The K8's safe enclosed design prioritizes user safety during operation, providing peace of mind while exploring your creative potential. Additionally, its fast engraving speed of 15,000 mm/min allows users to bring ideas to life quickly and efficiently.
With the Wainlux K8, creativity knows no bounds. Its capability to engrave on almost all surfaces grants users the freedom to personalize and customize a wide range of objects. The K8's compact size ensures easy transportation and usage in various settings, allowing users to unleash creativity wherever inspiration strikes. The generous working area of up to 130x130mm provides ample space to bring visions to reality.
"We are thrilled to introduce the Wainlux K8, a laser engraver that embodies our commitment to innovation and accessibility," said Jack Jiang, CEO of Wainlux. "We believe that everyone should have the opportunity to bring their creative ideas to life, and the K8 empowers individuals to do just that with its powerful performance, user-friendly interface, and versatile capabilities."
The Wainlux K8 is set to revolutionize the world of laser engraving, providing individuals with a tool that combines precision, efficiency, and ease of use. Whether you're a hobbyist, artist, designer, or entrepreneur, the K8 is the perfect companion to unlock your creative potential.
Wainlux K8 - the versatile and user-friendly laser engraver and cutter, is live on Kickstarter with special pricing and incentives for early adopters. Learn more here: https://www.kickstarter.com/projects/wainlux-laser-tech/wainlux-k8-the-fast-and-powerful-laser-engraver
Source: Wainlux Laser
Tags