Voxel - 3d Color by Number is Emerging as the Ultimate Coloring by Number App Currently Available
Press Release
•
updated: Jan 19, 2018
Available for iOS & Android platforms, the app takes coloring by number experience to the next level by adding time-lapse videos & 3D objects to its database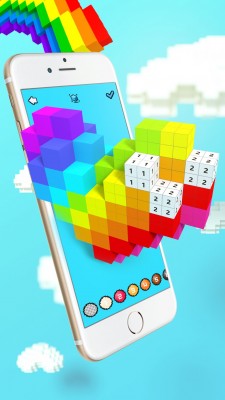 Hong Kong, China, December 21, 2017 (Newswire.com) - PicFun Inc. has proudly announced the release of their all new coloring app for adults called Voxel – 3D Color by Number. The amazing coloring by number app is now available on Google Play and iTunes for the Android and iOS users respectively and it is already getting a phenomenal response. Coloring by number is becoming a global sensation and this app brings exactly what adults and kids love to do when they color by number.
"Voxel 3D Color by Number is a fun app, which is designed for adults as well as children but it takes the coloring by number experience to the whole new level by turning the coloring pages into 3D." said the spokesperson of PicFun, while introducing the new app. "In addition to the unmatched coloring experience offered by the app, it also generates a cool time-lapse video of the whole coloring process, which can be shared with friends and family on the social media." He added.
In addition, this amazing new app is packed with endless amazing features and each feature offers a great benefit. Moreover, the app is simple and quick to use and users can choose from a wide range of 3D templates and colors while using the app. Colors can be filled by simply following the number and users can rotate their screen to color in different dimensions. Furthermore, the app also brings many emotional benefits and the greatest benefit is that it is an excellent tool for stress relief without any medication.
"Coloring is a stress-relief therapy and 3D coloring will give you more sense of achievements." Said one of the users of this app in his review, who is also a practitioner in the field of clinical psychology. The app is also highly educational and can help children and adults in learning and differentiating between different colors. Coloring lovers from around the world can get this app by subscribing it under very reasonable weekly, monthly and annual plans.
For more information and to download the app on iOS and Android please visit:
https://itunes.apple.com/us/app/voxel-3d-color-by-number/id1317195834?mt=8
https://play.google.com/store/apps/details?id=com.picfun.voxelcoloring&hl=en
Source: PicFun Inc.
Related Media
Additional Links