Vohra Wound Physicians Announces Increased Access to Telemedicine Amid COVID-19 Developments
Press Release
•
updated: Mar 18, 2020
Wound Care Physician Group Vohra widens application of its long-standing telemedicine program for wound care patients within skilled nursing facilities, allowing for safe and effective continuity of care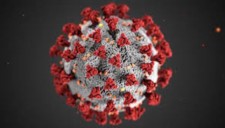 MIRAMAR, Fla., March 18, 2020 (Newswire.com) - Vohra Wound Physicians today announced increased access to its longstanding telemedicine program in response to the CDC's efforts to slow the spread of coronavirus (COVID-19) and Medicare's move to waive restrictions on telemedicine provisions.
At a time when older adults are vulnerable to the virus and access to care is limited due to the CDC's COVID-19 recommendations for nursing homes, Vohra's telemedicine program allows for continuity of care, as Vohra physicians can continue patient monitoring, evaluation, diagnosis and treatment direction via real-time interactive audio and video telecommunications.
"Vohra Wound Care's Telemedicine program has been operating efficiently for nursing homes across the country for nearly 10 years," explained John Sory, President of Vohra Wound Physicians. "And now, in this time of uncertainty, our technology is a proven solution to support our physicians, clients, and patients. Physicians use the same Electronic Medical Records technology as is used to document bedside care--making it a very safe, familiar, and effective alternative."
In addition to continuity of care, Vohra's Dressing Program allows physicians to customize treatment plans to the patient's needs and order wound dressings within the telemedicine platform--with the dressings arriving between 24-48 hours. Vohra's program ensures that facilities and Part B patients do not suffer from supply chain delays or vendor interruptions.
Vohra's telemedicine program is available to all its physicians and clients throughout 27 states. Physicians and skilled nursing facilities interested in learning more about the platform and services provided by Vohra Wound Care can direct inquiries to telemed@vohraphysicians.com.
About Vohra Wound Physicians: Founded in 2000, Vohra Wound Physicians is the largest wound care specialty practice focused on the post-acute market. Vohra's Physicians are wound care specialists enabled by proprietary leading-edge technologies that assist in the delivery of advanced wound care. Together, our physicians and technologies synergize to achieve our mission of bringing improved wound care solutions to patients across the U.S. and beyond.
Marisa Timko
Vohra Wound Physicians
954.652.9993
mtimko@vohraphysicians.com
Source: Vohra Wound Physicians