Vital Heart & Vein Consolidates Humble & Kingwood Offices to New Location
Press Release
•
updated: Jan 31, 2019
The newly built facility features amenities to enhance the patient experience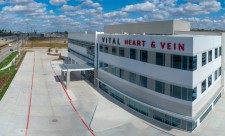 HUMBLE, Texas, January 31, 2019 (Newswire.com) - On Monday, February 4, 2019, Vital Heart & Vein will open a brand new facility located on the northeast corner of U.S. 59 and Will Clayton Parkway in Humble that will feature their comprehensive cardiac and vascular services along with additional valuable amenities.
Vital Heart & Vein—whose mission is to become a valued partner for each patient by providing accessible care of the highest quality—sees the opening of this facility as an opportunity to better service the community.
Dr. Marcy Lim, a cardiologist at Vital Heart & Vein says, "We strive everyday to provide our patients with the best possible care. Our brand new building with ample parking, spacious exam rooms and waiting areas coupled with the myriad of expanded cardiac and vascular services under one roof should make all of our patients' visits a much more enjoyable experience."
This is not just a new address for Vital Heart & Vein. This is a carefully planned facility built specifically for their needs. The team of experienced cardiologists are very excited to have the latest technology in all the brand new equipment on-site at the new location. Vital Heart & Vein's expanded services include PET scan, CT scan, ultrasound, nuclear stress imaging, and a state-of-the-art cardiac catheterization laboratory in our new Ambulatory Surgical Center.
About Vital Heart & Vein
Formerly known as Cardiovascular Association, Vital Heart & Vein was founded in 1998 by a team of cardiologists and vascular specialists in Houston, Texas dedicated to providing genuine care to patients.
The specialists at Vital Heart & Vein provide comprehensive cardiac services such as preventive cardiology, interventional cardiology (balloon angioplasty and stents, non-surgical valve replacement), and electrophysiology (rhythm monitoring, ablation, pacemakers and defibrillators). In addition, they provide vascular services e.g. balloon angioplasty and stent, non-surgical aneurysm repair, and vein treatments. Their goal is to provide care that ensures patients can live life to the fullest. It's just one more way Vital Heart & Vein strives to be the best cardiologists in the greater Houston area.
For more information about Vital Heart & Vein, visit www.vitalheartandvein.com - or contact 281-446-6656
Internal Links:
Company URL- https://www.vitalheartandvein.com/
Source: Versa Creative
Related Media
Additional Links