Award-Winning Marketing Agency Versa Creative Announces Building Acquisition and Relocation
Press Release
•
Aug 15, 2023
As the business expands, the Houston-based marketing and advertising agency has moved into a larger, privately owned space in Northwest Houston.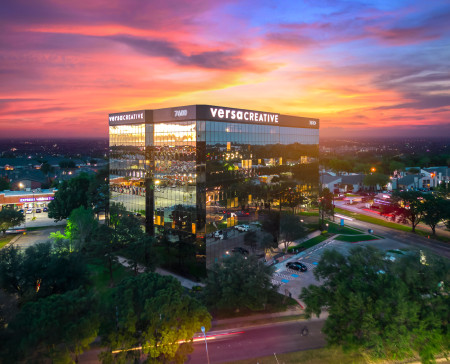 HOUSTON, August 15, 2023 (Newswire.com) - Versa Creative, one of the leading marketing and advertising agencies in Houston, Texas, is pleased to announce the relocation of its corporate office to Versa Tower in the 7000 block of W Tidwell Rd.
After 14 years of building up brands in Houston, across the nation, and internationally, Versa Creative moved its headquarters to the eighth-floor suite of their newly acquired 141,480-square-foot building, Versa Tower, complete with many amenities and an amazing environment, in June 2023 to accommodate for its expanding business prospects and growing team. Now situated on the top floor of their newly-acquired building, Versa Creative's wordmark proudly displays the new location to passersby on U.S. 290.
Following their fifth year in a row of winning multiple Platinum AVA Digital Awards, Hermes Creative Awards, and Houston's Best and Brightest Companies to Work For, and in anticipation of upcoming partnerships with international, multimillion-dollar companies, Versa is beginning the next step in its journey to becoming the number one creative agency in Houston. The Versa Creative team's new location will be the home of an expanded network of marketing experts capable of serving all fields. The move was completed in the summer of 2023. The Versa Creative team is now ready to build upon the experience that has been and will continue to lead Houston.
About Versa Creative
Founded in 2009 by Mary Shekari, Versa Creative is an award-winning agency that serves over 35 markets in the U.S. and internationally by building powerful brands and realizing results across boundaries and industries.
For 14 years, the experience that Versa Creative has in building brands in the healthcare, government, education, food and beverage, retail, and service providers industries has been clear through its work. As a full-service agency that provides comprehensive strategic and creative marketing services for its clients, from social media marketing, SEO, and PPC to traditional media, graphic design, and copywriting, Versa Creative is a true leader in Houston's marketing sphere.
Versa Creative and its talented team of marketing professionals are prepared for the next steps in their upward trajectory and anticipate more fruitful partnerships with Houston leaders in the years to come.
For all inquiries, please contact.
Mary Shekari
Phone: (832) 831-7590
Email: begin@versacreative.com
https://www.versacreative.com/
Source: Versa Creative