Vital Films Announces All-Inclusive Video Production Services
Press Release
-
updated: Jul 9, 2019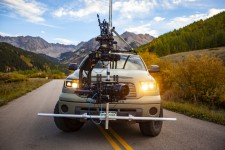 ASPEN, Colo., July 9, 2019 (Newswire.com) - Vital Films is a full-service video production company and film studio that has nearly 15 years of film production expertise under its belt. The cream of the crop of Denver video production companies, Vital Films utilizes state-of-the-art technology like unpiloted drones and gyro-stabilized cameras to perfectly capture the action. 
It All Starts With An Idea
Every video starts with an idea. The Vital Films team will bring ideas to life using state-of-the-art technology, starting with the creative process and ending in post-production. Vital Films has been featured on National Geographic and the British Broadcasting Corporation and has produced videos for clients like Microsoft, Dolby, Whole Foods, and L'Oréal Paris. 
Services Offered
Film and TV production companies require constant technological updates in order to stay fresh and relevant in today's busy world, which is why people can always count on Vital Films to bring their vision to life. Sometimes ideas can fall out of the sky, but Vital Films is there to capture them. That's why VF is FAA certified for Small Unmanned Aircraft Systems and utilizes state-of-the-art aerial photography drone technology, as well as manned helicopters in order to take breathtaking aerial shots. 
Footage Licensing
Another specialty of Vital Films is stock video footage licensing. With hundreds of hours of footage at the best rates in the industry, nothing can compare to the Vital Films stock library. Specializing in nature footage shot around the state of Colorado, VF produces incredible cineflex aerials, nature, wildlife, time-lapses, outdoor sports, and lifestyle footage with discounted rates for bulk licensing. 
How They Do It
None of this would be possible without the Movi XL, a 3-axis gimbal used by camera operators to give them the independence of handheld shots without irritating shaky cam effects. The Movi XL stabilizes the shot in the same way a gimbal stabilizes a ship's gyroscope. For eight years, the team and partners at Vital Films have specialized in gyro-stabilized Cineflex and Shotover camera systems in order to provide clients with the cleanest shots money can buy. 
Lights, Camera, Action!
No matter the size of a project, the expertise, and resources that come with Vital Films' video production talents have everything required to produce a stunning film. Regardless if it's a solo project or a commercial for an internationally-recognized brand, Vital Films will transform your ideas into an artful masterpiece.
Source: Vital Films
Share:
---
Categories: Movies
Tags: Aerial Filming, Aerial Photography Drone, Aerial Videography, Colorado Film, Denver Video Production Companies
---