ViewCAR, the Complete Smart Car Solution Kickstarter Campaign Launch
Press Release
•
Oct 21, 2016
​ViewCAR, The Comprehensive Solution for Car Trouble. A smart solution to solve the pain points of car ownership.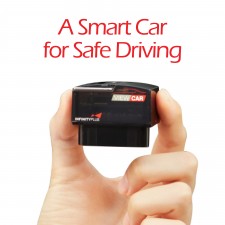 Seoul, Korea, October 21, 2016 (Newswire.com) - ViewCAR, the comprehensive smart solution for car diagnostics and car trouble has launched its campaign on Kickstarter. The campaign will run for 40 days, and the goal is to raise $30,000 to help support mass production costs. ViewCAR is a product offering of JastecM, a Korean start-up that has developed GYRE for over a year from the ideation phase to the present. JastecM was a recent participant at TechCrunch DISRUPT SF 2016.
ViewCAR was developed to be a total solution for safe driving, car diagnostics, car locks and parking spot location. In essence, all aspects of car ownership have been made smarter with ViewCAR. Car ownership is tied to a number of responsibilities and worries. Accidents, car maintenance and insurance are universal concerns. ViewCAR makes car ownership simpler and more efficient, and is installed simply by plugging it into the fusebox.
As soon as ViewCAR is installed and the ignition is turned on, ViewCAR will perform a complete diagnostic of your car. ViewCAR will analyze between 3000 – 7000 car parts and car fluids depending on the vehicle model. Should any part or fluid require maintenance, ViewCAR will send an alert through its companion application. In the future, JastecM also plans to enable the capability to send car status reports directly to your mechanic.
ViewCAR encourages safe driving by tracking bad driving habits such as speeding, sudden starts, sudden stops and cell phone usage while driving. For new drivers, this can help to develop safer driving habits. In addition, these bad habits are monitored to create insurance prognostication reports. Should an accident occur, ViewCAR can automatically alert an emergency contact while also calling for emergency aid similar to other AACN systems.
ViewCAR also promotes fuel efficiency and eco-friendly driving. By keeping track of MPG, CO2 emissions and fuel consumption, ViewCAR can help the driver check fuel efficiency and emitted pollution simply. Car usage can be tracked over the course of a week, a month or even 3 months to keep a log on the car's performance.
This palm-sized device also has a number of convenience features. Car sharing is easy with ViewCAR as you can provide remote access. Access to the driver's car is also simplified through remote unlock, and when the driver moves away from the vehicle, ViewCAR will automatically lock the car. The frustration of forgetting the location of cars has also been solved. With ViewCAR the parking location can be marked to its exact location.
Yong Beom Baek, CEO of JastecM, is thrilled to showcase his smart car solution to the world. ViewCAR is offered on Kickstarter at a discounted $29 for early bird specials. Expected delivery date is set for Feb. 2017.
Source: JastecM
Related Media
Tags
Additional Links