KStar Earphones: Woofer Earphones With Patented Bone Conduction Technology
Press Release
•
Aug 27, 2016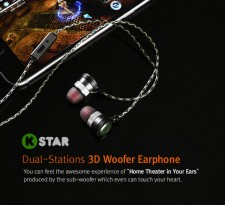 Seoul, Korea, August 27, 2016 (Newswire.com) - de'Makers, the creators of the first earphones with woofer sound, have developed KStar their latest and most dynamic woofer ear phones to date. KStar is the first earphone with de'Maker's patented bone conduction technology which allows for sound conduction through the body. This creates a much more visceral woofer experience that users can feel both physically and aurally.
Subwoofers traditionally required speakers with a diameter of 6 inch (15.24) minimum and a high power amplifier to play sound properly. Due to these restrictions, it was not possible to have the physical experience of the woofer thump with earphones. Not only would the sound have been deafening, it also could be harmful to human ears.
KSTAR is our first Woofer Earphones with patented Bone Conduction Technology to be introduced to the global market. As the creators of the first ear phone with woofer sound, we believe that KSTAR will revolutionize the way you listen to modern music. Finally, experience the aural and physical thump of bass in an earphone.

Inchual Lee, CEO
KStar Earphones is equipped with a 10mm micro woofer speaker that can create ultra-low sub-woofer sound, while not sacrificing quality of sound in the mid and high bandwidth range. Users will be able to hear and feel the thump of the bass, thereby experiencing the full spectrum of sound. Yet, no matter how sensitive the ears, KStar will not cause harm due to how the sound is conducted.
Unlike other ear phones, which deliver sound through air conduction, KStar's patented Bone Technology transmits sound through the skin, bone and skull around the ear. By using the support of the body, less stress is given to the eardrum. In addition, KStar has been outfitted with a patented air flow hole design which allows also prevents too much pressure from building inside the ear.
Through these two patented technologies, KStar is able to deliver a powerful woofer thump while reducing tympanic stress on the listener's ears. This provides an immersive home theatre sound experience for listener's whether they are listening to music, watching a movie or playing a video game.
KStar's cables are made of Kevlar fiber and tied in a cross-wire fashion to prevent tangling. In addition, the wires are double-coated in order to keep the wires from fraying.
KStar made its world premiere on the Indiegogo crowdfunding platform. The campaign is currently funding and has set a goal of $10,000 to help KStar to reach the mass production stage.
Source: de'Makers
Related Media
Additional Links