VideoLink Recognized by Lifesize as the North American Partner of the Year
Industry Veteran VideoLink Receives Prestigious Partner Award
Press Release
-
updated: Feb 13, 2018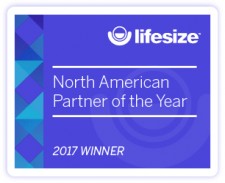 Denver, CO, February 13, 2018 (Newswire.com) - VideoLink®, a leader in audio and video conferencing business solutions, has been recognized by Lifesize®, a global innovator of video conferencing technology, as the North American Partner of the Year.
"Lifesize partners with leading service providers, resellers and distributors to deliver the best video conferencing and collaboration experience possible to organizations around the world," said Craig Malloy, CEO at Lifesize. "We are proud to honor VideoLink with this award, highlighting their consistent, high-quality services, as well as the remarkable momentum they have fostered in increasing workplace productivity and collaboration for many organizations."
"We are very excited about receiving the Lifesize North American Partner of the Year award," said John Lange, CEO of VideoLink. "At VideoLink, we strive to offer best in class solutions to our clients to help them accomplish more in less time by embracing the power of HD videoconferencing from Lifesize." Through their strategic partnership, the brands have been transforming the way companies communicate across the country.
With over 18 years of industry expertise, VideoLink is a leading audio and video conferencing solutions provider. They continue to offer their customers top-of-the-line, gold-standard products, including the full assortment of Lifesize solutions. The company services clients of all sizes in a variety of industries. Their wide assortment of solutions offered allows them to work closely with each customer to transform their conference rooms into the ultimate communications experience.
Lifesize, a pioneer in video communication, delivers an effortless video conferencing and collaboration experience combining an intuitive, cloud-based video communication application with award-winning, smart HD camera and HD phone systems designed for meeting rooms of any size. With a commitment to relentless innovation and customer obsession, Lifesize meets the needs of end users and IT administrators alike with a connected, end-to-end experience that includes web, audio and video conferencing, as well as chat, recording, sharing, and live streaming. Lifesize provides unmatched reliability, scalability and security, as well as industry-renowned customer support to help organizations connect, communicate and collaborate more efficiently and effectively than ever before.
Honorees of the Lifesize Americas Partner Awards were announced on January 9, 2018 at the Lifesize Americas Partner Conference in Austin, Texas.
About VideoLink
VideoLink® was established in 1999 as a company dedicated to providing complete conferencing solutions. Their focus is on the conference room and everything required to make it work seamlessly. Headquartered in Denver, Colorado with offices nationwide, VideoLink® provides remote and on-site installation and support, network video systems integration solutions, and technology training for US based companies.  VideoLink® customers include Fortune 500 companies, Healthcare, Department of Defense, and First Responders.
For more information about VideoLink, visit www.Videolink.com. For media inquiries and requests for hi-res images, please contact Rachel Czyzynski at Rachel.Czyzynski@Videolink.com.
VideoLink and the VideoLink logo are trademarks of VideoLink, Inc. and may be registered. All other trademarks are the property of their respective owners.   
Lifesize and the Lifesize logo are trademarks of Lifesize, Inc. and may be registered. All other trademarks are the property of their respective owners.
###
Source: VideoLink, Inc.
Share:
---
Categories: Business to Business, Professional Audiovisual Industry, Telecommunications, Telecommunications
Tags: Audio Video, Business Communications, Business Solutions, Conference Room, Lifesize, Partner of the Year, Remote Work, Technology, Video Communication, Video Conferencing, VideoLink
---