Mile High Employment Solutions Working to Fix America's Transportation Crisis
Press Release
•
updated: Nov 4, 2019
Mile High Employment Solutions Works With Companies Nationwide to Resolve Their CDL Driver Shortages Permanently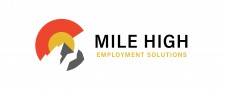 DENVER, November 4, 2019 (Newswire.com) - ​​It's no secret there has been a growing shortage of truck drivers in America. In fact, this shortage has grown from 10,000 to over 60,000 in just the last decade alone1. There is a lot of talk about this growing problem, but very little talk about a solution, until now. Mile High Employment Solutions, a Denver-based direct hire recruiting firm has mastered finding qualified candidates where others have failed.
So the question remains, how? With over 35 years in business, Mile High has worked in some of the hardest to fill industries in the country and have acquired the knowledge and know-how to fill them with highly-qualified, well-suited candidates. In this time, they have created an industry-leading process that matches employees and employers to their unique wants and needs. In conjunction with their process, they use a combination of specialized marketing and customized recruiting to bring in their candidate pool.
"You could say we were the original pioneers in our field. We were doing this before any of our competitors," says President and Founder Kevin Courtney. "With this experience has come knowledge, and with this knowledge comes results." Mile High brings in a candidate pool of over 2500 qualified drivers every month. This provides employers with expertly matched drivers resulting in less turnover and higher production. They are not only helping employers stay in business, but also helping to create growth through opportunities, that without Mile High, would not have previously existed.
As the need for drivers continues to grow year after year, more and more companies are relying on Mile High to fill their needs. They work with companies locally, regionally, and nationally in a variety of industries. Their efforts are working towards creating permanent solutions in a field burdened with challenges. Instead of quick fixes and high-turnover, they have finally found a way to solve these long-standing driver needs long-term.
About Mile High Employment Solutions
Mile High Employment Solutions has over 35 years of experience placing company CDL drivers nationwide. Specializing in Oil and Gas, General Transportation, and Skilled Trades, Mile High Solutions matches employers and employee needs to find long-term solutions for both. Through specialized marketing and customized recruiting efforts, Mile High recruits over 2500 qualified candidates every month to match with employer needs nationwide. Their unique industry-leading process has allowed them to be successful in a field where others have struggled year after year.
For more information about Mile High Employment Solutions, visit www.mhemployment.com. For media inquiries, please contact Rachel Czyzynski at Rachel@Mhemployment.com.
1) https://www.bloomberg.com/news/articles/2019-07-24/u-s-truck-driver-shortage-is-on-course-to-double-in-a-decade
Source: Mile High Employment Solutions
Related Media