VICTURY Sports Announces Partnerships With Hedstrom USA and ToyFair 2018 Preview
VICTURY to launch Ultimate Indoor Sports and Play Balls.
Press Release
-
updated: Feb 13, 2018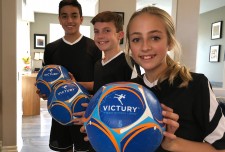 IRVINE, Calif., February 13, 2018 (Newswire.com) - VICTURY Sports has signed a licensing and partnership agreement with the largest U.S. play ball maker, Hedstrom inc. Hedstrom, based in Ashland, Ohio, also produces internationally recognized products such as the BOSU® ball and Mitre® Soccer balls.
VICTURY Sports and Hedstrom will preview two highly innovative new products, the Ollyball® and the VICTURY™ ball, at Toy Fair held on Feb. 17, 2018, at the Jacob K. Javitz Center in New York City.
The OllyBall® is a play ball that was engineered to be hit indoors, making it possible to "play ball in the house!" The re-inflatable ball is constructed with a patent-pending two-piece KrunchCOR® construction that absorbs energy when hit or kicked. The ball can be hit in-home at full speed and will not break windows or leave marks on walls. The ball is designed with a truly unique feature only being previewed at Toy Fair.
The second product, the VICTURY soccer ball/volleyball, was engineered to spin, balance and react in "slow-motion" – allowing athletes to learn faster and build confidence with quality touches. The VICTURY ball is a regulation size 5 ball with the same KrunchCOR design, making it perfect for indoor, full-speed training.
"When inflatable balls are kicked, they store and release energy. The magic behind the KrunchCOR construction is actually simple physics or what's known as the coefficient of restitution," says VICTURY Sports inventor and CEO, Joe Burke. "When the VICTURY or OllyBall ball is kicked, the bladder internally expands to absorb energy, making it perfect for indoor play, indoor training, and for parents who are tired of telling their kiddos to stop playing ball in the house!"
Burke started developing the product for his own kids in 2013. He has been working with Universities, a Ph.D. Engineer, and his brother John Burke, a 2X NSCAA Soccer Coach of the Year, to develop the ball and training system.
"This is a sports training ball that allows athletes and parents to train without limits, 24/7, night or day," states Hedstrom Vice President of Sales and Marketing Gary Pember. "We are positioning each product distinctly in the market; the OllyBall lets kids play without limits, and the VICTURY ball empowers athletes to train without limits."
VICTURY Sports plans to donate a percentage of all sales to U.S. TOPSoccer, an organization that named John Burke a 2016 Coach of the Year. Burke, who was also awarded a 2017 U.S. Cellular Most Valuable Coach Award, jokes, "If you want your kids addicted to soccer, the VICTURY ball is the gateway drug."  Burke encourages athletes to "hit it hard and break nothing!"
Preview appointments are available at VICTURY.com. Hedstrom will be presenting in Booth 5819 at ToyFair 2018, Feb. 17-21, Jacob K. Javitz Center, New York City.
For more information contact VICTURY Sports Community Manager Mia Gutierrez at: mia.gutierrez@victury.com, call +1 (949) 705-4104 or visit www.OllyBall.com, and www.VICTURY.com.
About VICTURY SPORTS
VICTURY Sports is introducing a new category of indoor sports and play products. Based in Southern California, VICTURY is founded by two brothers, Joe Burke, a former Disney Executive, and John Burke, a 2X U.S. Soccer Coach of the Year. More information at VICTURY.COM.
About Hedstrom
Hedstrom Entertainment has over 100 years of experience in the manufacture, sales and distribution of toys. Already conquering the play ball market with a majority share at retail, Hedstrom continues to grow its product offerings. Hedstrom's mission is to get kids off the couch and start having Unplugged Fun!
Source: VICTURY Sports
Share:
---
Categories: Games and Play, Soccer, Toys
Tags: Hedstrom, Ollyball, Soccer, Toy Fair, VICTURY
---