Victor Technology Raises Awareness of Standing Desk Converters During High Blood Pressure Education Month
Press Release
•
updated: May 7, 2019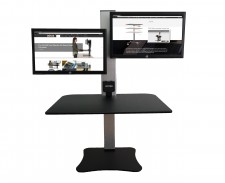 BOLINGBROOK, Ill., May 7, 2019 (Newswire.com) - ​​​May is National High Blood Pressure Education Month, which means the topic of hypertension is forefront on many people's minds. In an effort to educate employers and employees on ways to enhance their work environment to reduce the risk of heart disease, Victor Technology is promoting the benefits of standing desk converters, including its electric DC450 model.
Sponsored by the Centers for Disease Control and Prevention (CDC) and recognized by the National Heart, Lung and Blood Institute (NHLBI), National High Blood Pressure Education Month originated to raise awareness of the impact hypertension has on individual health.
"Most people don't realize that even if you're exercising on a daily basis, sitting all day at work is still eight or more hours of sedentary behavior, which can lead to heart disease even if you have an otherwise active lifestyle," said John Ringlein, president of Victor. "We went into the standing desk business to give employees the ability to alternate between sitting and standing throughout the day to reduce this risk."
According to the American Diabetes Association, one in three Americans has high blood pressure. This can be attributed, in part, to a sedentary lifestyle, which is often compounded by having to sit at work. As far back as 1953, studies showed that sitting all day on the job versus being active significantly increased a person's risk of heart disease.
While physical activity such as walking or standing improves blood flow and in turn helps lower blood pressure, recent reports indicate that standing for too long can have a negative impact on the heart, as well. The current trend in health and ergonomics implies that finding a way to switch positions every 30 to 45 minutes may offer the best heart benefits.
Research from the University of Pittsburgh showed that subjects who alternated between sitting and standing throughout the day reported lowered blood pressure. And when participants changed their posture every half hour, they experienced significantly lower diastolic blood pressure.
One way to easily switch positions while working is to have a sit-stand desk like Victor Technology's DC450. Sit-stand desks have been proven to alleviate the risk of high blood pressure in studies by both the University of Minnesota and the Mayo Clinic.
Victor's electric standing desk converters, including the DC450, provide a cost-effective way to transform traditional desks and existing furniture into sit-stand desks. The entire lineup rests on top of current desks and tabletops with no need for clamps, mounting or modifications. Plus, their creative design makes them easy to place into compact spaces, including corner cubicles.
With the DC450, employees can raise or lower their workstation with the push of a button thanks to Victor's Easy Tap Technology. A strong, durable motor activates and moves the work surface to the desired height and a second press stops the movement. The work surface—which accommodates a keyboard, mouse, phone, and accessories—is adjustable to any height to provide an ergonomically correct position for a person up to 6-foot-5-inches tall.
The DC450 comes with two monitor brackets, each of which can be set independently of the other. Brackets also allow monitors to swivel 140 degrees from side to side and rotate up and down 90 degrees for the best screen viewing from any angle.
In addition to their health benefits, Victor's sit-stand desk converters require little assembly and can be set up in minutes. As a result, there is minimal employee downtime or interruptions in workflow and productivity.
About Victor Technology LLC
Victor Technology LLC is an American-owned and operated supplier of standing desk converters, desktop accessories and calculators. Victor distributes its products throughout the U.S., Canada and Latin America to office supply, furniture, mass market, and Internet retailers. For more than 100 years, Victor has maintained a long-standing reputation for quality products and excellent customer service.
For more information on the DC450 or any of Victor's sit-stand desk converters, visit www.victortech.com.
Source: Victor Technology