Venture-Backed AI Startup Peachscore - FICO Score for Startups, Announces New Partnership With Loyola Marymount University Entrepreneurship Program
Press Release
•
updated: May 27, 2021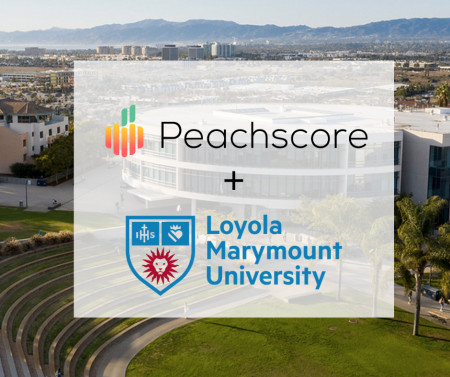 LOS ANGELES, May 27, 2021 (Newswire.com) - Peachscore, a technology company empowering investors and startups by democratizing the venture capital industry, is pleased to announce its innovative partnership with Loyola Marymount University's Fred Kiesner Center for Entrepreneurship. The company is launching a brand-new software solution that can quickly analyze a startup and generate a "Peachscore" that instantly identifies its strengths and weaknesses.
Using their proprietary AI-driven algorithm, Peachscore functions by aggregating, integrating and analyzing over 241 metrics across 14 dimensions, including information shared by founders, to generate the equivalent of a "FICO" Score for their business. The system interprets factors such as founders, management team, product, financials, legal, competitive landscape and market opportunity.
In a matter of moments, founders and entrepreneurs can access their unique Peachscore metric that serves as an indicator and benchmark to the risk factors that impact attracting potential investment capital. The information used to generate the score is then outlined in a comprehensive report with detailed annotations and ratings for each dimension, empowering startup founders and entrepreneurs to better understand what needs to be done to raise capital from investors more efficiently.
Additionally, Peachscore will match startup companies with investors whose profiles and criteria align, rapidly speeding up the capital sourcing process and creating an accessible environment where startups can easily interact with investors to receive funding.
Backed by the same investors who invested in Google, Paypal, Dropbox and Palantir, Peachscore aims to be a 'Virtual Venture Associate' that can automatically analyze, benchmark and cross-reference all facets of an early-stage company and provide critical feedback to the user and potential investors.
Alex Mojtahedi, CEO and founder at Peachscore said: "LMU marks the first of several prestigious universities to integrate Peachscore's technology into their curriculum. The platform will be implemented in LMU's undergraduate, graduate and incubator programs to enable students and founders to gain valuable insights into the key strengths and risk factors of their businesses."
"Current students who are working to launch their startups can leverage Peachscore to "pre-test" their business idea or company by running it through the Peachscore engine, which will provide guidance on how they can enhance their business before they officially incorporate or launch."

David Choi, Conrad N. Hilton Chair of Entrepreneurship at LMU

Not only does Peachscore provide instant access to an in-depth company analysis, but the platform will also provide direct communication with its growing investor userbase seeking quality startups and a community of service providers who can help these early-stage companies grow faster.
In addition to LMU, over 65 other world-known investors, corporations and schools have committed to partner with Peachscore to help startups efficiently navigate the complexities of the venture capital and corporate realms.
During the Peachscore pilot program with LMU, the public is invited to join the waitlist on www.peachscore.com in anticipation for the official launch of the platform coming later this year.
Source: Peachscore