Vehicle Barriers Promote Public Safety Debate During LA Times Festival of Books at USC
Meridian's Archer 1200s added to bolster campus perimeter security
Press Release
-
updated: Apr 22, 2018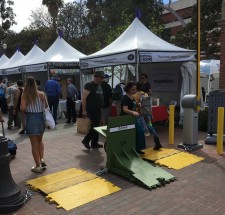 LOS ANGELES, April 22, 2018 (Newswire.com) - Patrons of the annual Los Angeles Times Festival of Books noticed an increase in perimeter safety at the USC campus. Open walkways and "arm" gates were augmented with Meridian Rapid Defense Group's Archer 1200 portable vehicle barriers. With an increase in hostile vehicle events both abroad and in the U.S., safety is on everyone's mind.
"I really appreciate that the campus is thinking ahead about safety," commented Sarah Winston, a USC student perusing the event. "Cars are dangerous and these (barriers) are a reminder to be super safe."
LA local Nancy Jacobs explained the purpose of steel objects to her 8-year-old son who promptly climbed up the 3-foot front ramp. "They are here to stop cars from coming into the area." When asked if she thought the increased security was needed, she responded. "With the way the world is nowadays, you can't be too careful."
Security personnel at the event praised the flexibility of the portable barriers. "They are an important show of force," said Campus Security Officer Lawrence Morris. "Their presence is intimidating, but if the LAFD comes my way, I can easily get them out of the way."
"People have been easily walking through them all day," noted veteran officer Niles Rose. "They have a good sense of why they are there." Rose, a deputy with more than 20 years of experience, was interested to know that the Archer 1200 barriers are constructed of ballistic-rated steel. "Honestly, I was looking around for where I might get cover. It's something you think about in my line of work. That (behind the vehicle barriers) is where I am going to go in a fight."
The Archer 1200 barrier was originally designed for military use and is certified to withstand fire from 44 caliber handguns to AK47s firing armor piercing rounds making them vital equipment from Fort Wainwright, Alaska to Kandahar Airfield. The rise in urban hostile vehicle attacks has opened up the market for city law enforcement, campuses and venue police. Recent deployments include Pasadena's Rose Bowl Stadium, the campuses of SMU and Georgia Tech as well as professional sports venues like Tampa Bay Rays' Tropicana Field and the Cincinnati Bengals' Paul Brown Stadium.
"These are a really important psychological deterrent," said LA County officer Joe Gonzales who was working off duty at the event. "People know that they are there and they have a good sense of why they are needed."
Not all guests at the Festival of Books noticed the increase in protection. PBS television cameraman Rob Walker and TV host Casey Finn spent hours near one of the deployment spots filming man-on-the-street interviews. "Honestly, I didn't even notice them," remarked Finn.
When asked if that was a good thing or a bad thing, Walker responded, "I think it is a good thing. They don't call attention to themselves. With the green (paint scheme) they kind of disappear." 
"Yeah," added Finn. "But they clearly serve their purpose. I think it is great that they can protect you without making you feel like you are in a war zone."
The Los Angeles Times Festival of Books runs April 21-22 on the University of Southern California campus. For more information about Meridian Rapid Defense Group or the Archer 1200 Vehicle Barrier, visit www.betterbarriers.com.
Source: Meridian Rapid Defense Group
Share:
---
Categories: Public Safety
Tags: barriers, car ramming, crowd safety, vehicle barriers, vehicle mitigation
---