Meridian Expands Hostile Vehicle Barrier Business to Serve Rental Demands in Australia
Press Release
•
updated: May 3, 2018
Certified Archer 1200 Portable Vehicle Barrier Meets International Guidelines for Best-In-Class Protection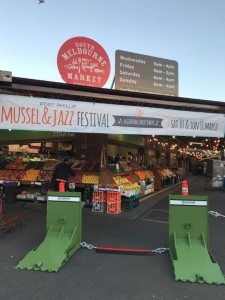 MELBOURNE, Australia, May 3, 2018 (Newswire.com) - Worldwide demand for immediate vehicle mitigation has opened up a new market in major cities across Australia. Meridian Rapid Defense Group (Meridian) has partnered with AML Risk Management Pty Ltd (AML) to offer the first US DOD and PAS 68 portable vehicle barriers on a rental basis. Recent deployments include the South Melbourne Market Mussel and Jazz Festival (March 10-11) and the ANZAC Day dawn service at Torquay, Victoria, attended by an estimated 5,000 on April 25.
The Archer 1200 barrier design combines certified stopping power with the ease of deployment required to service ad hoc outdoor events where large crowds are at risk from hostile vehicle engagement. Communities can pro-actively address security needs via equipment rental without the often-lengthy process for city or government purchase programs.
We want to get these barriers out in the field so they can do their jobs. Expanding to rental allows us to help events - large and small - on virtually a moment's notice.

Peter Whitford, Meridian CEO
"The need is now," says AML Managing Director Andrew Duffy. "Every weekend in cities across Australia, people are out enjoying concerts, shopping, markets – the Archer 1200s can be positioned in minutes to provide a protective barrier between pedestrians and danger."
The South Melbourne Market event is a typical situation where roadways are closed down to make way for street festivals filled with pedestrians. Large crowds near active roadways can be targeted by car-ramming terrorists. Often times, the only protections are aluminum fencing and safety cones. Communities are often slow to address the risk.
The recent tragedy in Toronto demonstrates that attacks are happening in cities outside of London, Paris and New York. "It is a sad reality that the threat is real and growing," adds Duffy. "Communities are struggling with how to deal with it. Being able to rent these barriers gives cities a way to act now – without lengthy planning and budget processes."
The Archer 1200 portable barrier is in use globally by military, police and major sports venues including the Melbourne & Olympic Parks. Other deployments include Kandahar Airfield, Pasadena's Rose Bowl Stadium and the upscale, open-air malls of the Caruso Group.
"We are about keeping people, places and communities safer," says Meridian CEO Peter Whitford. "We want to get these barriers out in the field so they can do their jobs. Expanding to rental allows us to help events - large and small – on virtually a moment's notice."
The Archer 1200 has an additional feature which makes it particularly suited to public events. Barrier units are spaced about a meter apart and connected with steel Arrestor CablesTM. The setup prevents vehicle breach yet allows free flow of pedestrians and quick access for emergency vehicles.
"There are so many factors that have to go into providing a secure location," adds Whitford. "You need to nail perimeter safety, but you can cause even more problems if you create a fortress atmosphere." Whitford cites the case of the recent Las Vegas shooting where high fencing prevented evacuations and access to wounded by first responders. Portable, modular barriers allow security teams to design highly flexible plans that can adapt to changing situations. In addition, the barriers balance the mix of showing strength while maintaining an aesthetic appeal.
For more information about Archer 1200 barrier rentals, contact AML at events@amlrisk.com.au or Meridian at info@betterbarriers.com.
About Meridian Rapid Defense Group
Meridian is headquartered in Pasadena, California, and operates in the U.S., Europe, Asia and Australia as perimeter security specialists. Meridian develops anti-vehicle barrier systems that are engineered for speed of deployment. The flexibility of the system allows tactical or military forces to quickly secure politically, economically or environmentally important sites for short and long durations. Their product line is focused on anchored and unanchored portable vehicle mitigation barriers as well as the supporting elements that ensure a fast and effective deployment.
About AML Risk Management Pty Ltd
AML Risk Management is a licensed and experienced Security Firm which operates at an industry-leading standard. Our experienced team of trained professionals strives to complete every task to the satisfaction of the client. Part of our goal is to maintain the flexibility to cater for the unique security needs of any event at any capacity. This is achieved through the diverse range of services we offer, from basic crowd control and asset protection through to our Emergency Response and Emergency Management Teams. We also have a highly skilled Asset Protection Unit who are qualified to operate and carry out Trace Detection.
http://www.amlriskmanagement.com.au
Source: Meridian
Related Media