Vantage LED USA and Eastern Sign Tech Restore Atlantic City Icon
Press Release
•
updated: Sep 19, 2018
Vantage LED USA and Eastern Sign Tech partnered to rejuvenate the iconic sphere on the top of Ocean Resort Casino. They engineered, manufactured, & mapped the individual LED "Pucks" for the 40' diameter Sphere. Powered by an improved control system & our cloud-based software, SM Infinity™, this landmark now stands tall & bright.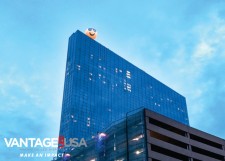 ATLANTIC CITY, N.J., September 19, 2018 (Newswire.com) - Exclusive feature in Sign Builder Illustrated, Sept 2018: Until recently, a faulty digital display in the shape of a sphere represented an Atlantic City casino property with a long and troubled history. When new owners took over and renovated the property into the all-new Ocean Resort Casino, they also sought to rejuvenate this rooftop digital sphere to light up the skyline once again.
To achieve this goal, Ocean Resort's new owners called on New Jersey-based Eastern Sign Tech to work on the project, and the sign company brought in its partner, Vantage LED USA.
They wanted to show people that if the sphere could be revitalized, the casino could be revived, that it could rise up and be a success.

Deacon Wardlow, Project Lead
"We're known as an engineering firm first and foremost," explains Wardlow. "In this particular instance, the partner and the casino felt that we'd be the best company to take on the project because it required a lot of customization."
Vantage got to work by first doing a site survey of the original sphere. "Our engineering teams took a look at the existing system in place to make sure we got the right specs," says Scott Hofheins, specialist at Vantage LED USA. "When doing a project like this, you have to get it right the first time so the new system fits correctly."
The new digital system needed to fit around the original sphere's interior structure. "Because of the existing structure, we had to work with the placement as it had already been built because otherwise, it would have required way too much re-engineering," says Wardlow. "On top of that, we had to run all the measurements on the panels, and then calibrate the system manually to ensure that it was matching what was there but also exceeded in brightness and overall performance."
"We added higher intensity LEDs over what the prior manufacturer was using to give it a little more brightness and a little boost in graphics quality as well."
The brighter LEDs also helped to counteract the white background of the sphere. "With a display, you need black to show off colors better and contrast the image. But because it was an all-white system, basically you're now overcoming the white background so you lose some brightness because of that," says Wardlow. "We had to design an RGB LED chip specifically for the project to basically overcome the white background and to make sure the display shines regardless of the environment."
To make things even more challenging, Vantage had to design for content that would wrap around a sphere in a shape called an icosahedron. Basically, content is displayed across the 20 sections or faces of the icosahedron sphere. Each of those sections is made up of three subsections. Each subsection is broken up further into seventeen triangles. In each triangle, there are twenty-one LED pucks. In total, almost 22,000 LED pucks make up the digital sphere.
In the end, Vantage designed a completely custom system that includes new controllers, connections, boards, control panels, and a weather-resistant LED puck system. "It's a fully encapsulated system, including the cabling and the pucks themselves, so there's nothing exposed to the environment," says Wardlow. "These pucks are designed to last ten-plus years on the system without any maintenance required."
Vantage also reduced the main service voltage from 480 volts to a standard 240 volts, and now, it uses about 30 percent less power.
Managing the display is now easier thanks to Vantage's secure, cloud-based SM Infinity software, and Ocean Resort displays everything from text to graphics like a smiley face and beach ball stripes. "We included our content creation service via SM Infinity that allows them to request custom content from our professional design team," says Hofheins. "We also provided templates for the sphere so they can create their own content inside of SM Infinity."
In addition, the new system allows for better service and remote diagnostics, so Vantage's support teams can isolate components and outages quickly and ensure the correct parts are sent and the sign serviced as quickly as possible. "We provide a full 7-Year Parts Warranty, 7-Year On Site Parts Replacement Service, and 7-Year Lighting and Vandalism Protection in order to give the best support possible to our dealers and display owners," explains Hofheins. "This is a huge benefit for Ocean Resort and anyone who owns a Vantage display."
Re-engineering and calibrating the new sphere was only half the battle. The other half was the time-consuming physical labor put in by Eastern Sign Tech to strip the old components and install the new ones -- including all 22,000 of the LED pucks. "This was a really labor-intensive project because all of those pucks had to be hand-placed and tooled and checked. It was impressive that Eastern Sign Tech did all that in the timeframe we were given," says Wardlow, who explains that the timeline shrunk from eighteen weeks down to just eight weeks.
"It was basically time-consuming more than anything," says Ron Maletich, Senior Sales Executive, Eastern Sign Tech. "Some of the challenges were the weather. The other challenges were cleaning out what was there, getting all the parts in there, and of course, having it all synchronize as certain triangle areas went with certain power supplies that were numbered."
In addition to the sphere, the project included an 8-foot-by-30 foot Flex-V Series 20mm RGB digital display from Vantage at the boardwalk level, which is also controlled by SM Infinity and advertises not only what's going on in the casino, but also in the community.
When the project was finished, the feedback from the community was tremendous. "The ownership, the executive team, marketing, everybody is impressed and loves it," said Maletich.
Hofheins agrees. "Our on-site technicians were able to feel excitement from the local community as the sphere lit up for the first time," he says. "People on the street were asking questions and telling the technicians how happy they were to see it lit up again as a symbol of the recovery and growth of Atlantic City."
Original Exclusive Article as released and featured only by Sign Builder Illustrated, Sept 2018.
Source: Vantage LED USA
Related Media
Tags
Additional Links