Vantage LED Raises Bar Again, Delivering Eye-Opening Show at Biggest ISA Sign Expo Yet
Press Release
•
updated: May 4, 2017
Continuing their tradition, Vantage LED exceeded expectations, delivering on the hype, by announcing and showcasing a host of new offerings that add significant value for dealers and customers. These include programs and features like 365-day terms, two new series of products, 7-year professional content creation, and more.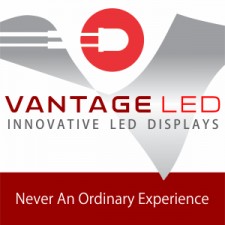 Las Vegas, NV, May 4, 2017 (Newswire.com) - ​Expectations were high for California-based LED sign manufacturer Vantage LED at this year's ISA Sign Expo in Las Vegas. Their pre-show announcement of some exciting features and programs, along with a promise for more at the show, left attendees and the industry chomping at the bit to see what comes next. The show opened its doors on April 20th, and they were not disappointed.
Prior to the show, it was confirmed that Vantage LED would be removing their standard dispatch fee under their already impressive 7-year parts and on-site service warranty, and adding a virtually unheard-of $10,000 Lighting and Vandalism coverage for all new displays. As if this wasn't enough, they also announced a program that includes 7 full years of professional content creation, a $1,000 LED sign demo program for dealers, and their successful completion of the ISO9001 quality management certification.
"This is what we do. We want to influence the industry in a positive way, and ensure that it continues to grow and evolve through innovation on a foundation of principles and passion."

Chris Ma, CEO & Founder
"We enjoy making these announcements and getting everyone excited, not just for this show, but for the rest of the year." explained Paul Martin, Director of Marketing for Vantage LED, "We love it, because we can actually deliver on the promise; we are an industry disruptor thanks to an amazing leadership team, hard working people, and solid dealer partners. "
While the offerings in their pre-show announcement may seem to be pushing the limits for many manufacturers, those familiar with Vantage LED knew it was only the beginning, and to expect even more at the show. As usual, the goods were delivered in typical Vantage LED style with an open booth, great music, a beautiful 3.9mm giant LED display, and a relaxed and inviting party atmosphere.
New "D" and "W" Additions to the FLEX Product Series
Vantage LED hit the ground running with a surprise unveiling of two powerful additions to the Premium FLEX Series of LED displays. Along with their well-known FLEX-V Series featuring pitches from 5mm to 24mm, they added the new FLEX-D and FLEX-W Series, which allow dealers to provide display sizes that were previously unique to specific competitors in the industry. The announcement was met with excitement from attendees and dealers who have been looking for a way to move away from their traditional sources, and get the Vantage LED experience on all their bids and products.
"We don't believe in lateral movement; we innovate and improve." explained Chris Ma, CEO of Vantage LED, "Unfortunately, this approach is foreign to many of the larger manufacturers in our industry who are satisfied with the status quo and expect everyone to fall in line. We say to them: Get with the program or get out, we're moving forward!"
The innovative features and benefits from Vantage LED are available on the new series, including virtual pixel technology, upgradeability, and extremely low power consumption. This makes them even better than the same-size product offered by their competitors. Pitch sizes available for the FLEX-D Series include 15.85mm, 19.81mm, and 26.41mm, and pitch sizes for the FLEX-W Series include 10.16mm, 12.7mm,, 16.93mm, 19.05mm, and 25.4mm.
365-Day Terms
One of the most promising announcements was their "365 FLEX Business Terms" program for dealers. This provides a way for large and small dealers to bid on large projects without the worry of a comparably large upfront cost. For example, a smaller dealer who has solid credit can utilize this program on a case-by-case basis to win large projects or jobs with a long-term payout schedule.
"This is a great tool to help our dealers get a financial edge they wouldn't normally have." said Josie Salitrero, National Sales Director for Vantage LED. "This, combined with amazing software, warranty, onsite service, professional content, automatic emergency alert system, and other benefits we already provide, means our dealers can literally dominate in private and public bids, government projects, and other areas where it can be difficult to get your foot in the door."
Demo Site Program and 7-Year Professional Content Creation
While all Vantage LED Displays include the standard 1-year content creation package, the announced expansion to a full 7 years was a major value to dealers and owners alike. More details on the program were given at the show that allow participating dealers to utilize a fully integrated nationwide site demo system on any display in the field under this program.
"It's amazing." said Scott Hofheins, Specialist and SM Infinity Rep. "Of course, we have always been a proponent of great content, but this program really goes above and beyond. Dealers get a built-in national site demo program, and display owners get 7 years of amazing content along with priority support ... everybody wins!"
Big Show & Big Value from Vantage LED
According to the ISA, the Sign Expo set the record for the largest show so far, with over 20,000 attendees and close to 600 exhibitors. The educational events and other co-located events also saw record attendance. ISA President Lori Anderson said in a press release that the sign expo is "the only trade show that brings together the breadth of the sign, graphics, and visual communications industry and those who influence it."
"This is what we do," said Chris Ma, CEO of Vantage LED. "We want to influence the industry in a positive way, and ensure that it continues to grow and evolve through innovation on a foundation of principles and passion."
This passion and fearless innovation has been a hallmark of Vantage LED, and is the basis for their "We Got Your Back" campaign that has become a mantra among both internal staff and Vantage dealers. Chris Ma attributes this to the fact that it quickly summarizes the way they add value and support their customers every day.
"It includes everything, and everyone." he explained, "We stand behind our products, our dealers, end users, and the industry in general, adding value beyond the brand. We're in it for the long haul, so we're making the journey as comfortable as possible; we got your back!"
The show finished up on Saturday, April 22nd, and based on the record-breaking attendance, the ISA is set to include more floor space and opportunities for next year in Orlando, FL. Expect Vantage LED to return again with even more added value for everyone in the industry and to continue setting the standard for years to come.
CONTACT INFORMATION
Paul Martin
paul@vantageled.com
Vantage LED
888-595-3956 x235
Source: Vantage LED
Related Media
Additional Links