VALO Holdings Group and CEO Jana Seaman Empower Habitat for Humanity Collier County Florida Through Team Volunteer Efforts
Press Release
•
updated: Jul 18, 2023
VALO Holdings Group, led by CEO Jana Seaman, bring their team to sponsor and participate in a community event with Habitat for Humanity of Collier County — working on a new construction to benefit families in need.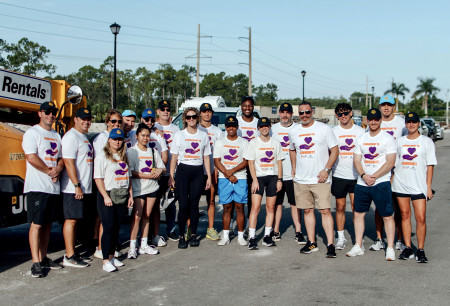 NAPLES, Fla., July 17, 2023 (Newswire.com) - In a display of commitment to community welfare and affordable housing initiatives, CEO Jana Seaman and the dedicated team at VALO Holdings Group — along with their brand partner SurgeTrader — joined forces with Habitat for Humanity of Collier County in Naples, Florida on Thursday, July 13, 2023. It was a great turnout with a large team of enthusiastic employees who volunteered their time and efforts to participate in a rewarding build event aimed at constructing future homes for deserving Habitat for Humanity beneficiaries.
Habitat for Humanity Collier County is a renowned non-profit organization that empowers families and individuals by providing them with decent and affordable housing solutions. The VALO Holdings Group team embraced this noble mission and took the opportunity to contribute actively to the cause, making a positive impact on the local community.
The build event took place at one of the designated construction sites, where the VALO Holdings Group team rolled up their sleeves, got sweaty, and collaborated with other volunteers to construct the foundations of a future home. Through their hands-on work, the team demonstrated not only their dedication to teamwork but also their passion for giving back to their community.
Jana Seaman, CEO of VALO Holdings Group, emphasized the significance of social responsibility and community involvement. She stated, "We are incredibly honored to be a part of this impactful initiative by Habitat for Humanity Collier County. At VALO Holdings Group, we strongly believe in making a difference in people's lives, and participating in this event aligns perfectly with our core values. It is heartwarming to witness our team members actively contributing to the construction of a home that will provide a stable foundation for a family in need."
The collaboration between VALO Holdings Group and Habitat for Humanity Collier County Naples stands as a testament to the powerful outcomes that can be achieved through corporate-social partnerships. By channeling their collective efforts, both organizations are making a real difference in the lives of families within the local community.
Top of Form
About VALO Holdings Group:
VALO Holdings Group is a leading global investment firm with a diverse portfolio of businesses spanning various industries. Committed to creating positive change, VALO Holdings Group focuses on strategic investments and philanthropic efforts that empower communities and drive innovation. More at https://www.valoholdings.com/
About Habitat for Humanity Collier County:
Habitat for Humanity Collier County is an esteemed nonprofit organization dedicated to providing families and individuals with affordable housing solutions. Through a network of volunteers, donors, and community partners, Habitat for Humanity Collier County has positively impacted countless lives by building homes and strengthening neighborhoods. For more information about Habitat for Humanity Collier County, please visit https://www.habitatcollier.org/.
Contact:
Chrissa Alghini
239-249-5806
info@valoholdings.com
Source: VALO Holdings Group