VA Awards $2.2 Million to Purpose Built Families Homeless Veterans Program
Operation Sacred Trust has helped reduce Veteran homelessness by 50 percent in South Florida
Press Release
-
updated: Oct 2, 2017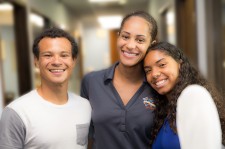 PEMBROKE PINES, Fla., October 2, 2017 (Newswire.com) - Veteran homelessness in Florida has been cut in half since 2011 when the U.S. Department of Veterans Affairs began funding the Supportive Services for Veteran Families program, SSVF, reports Purpose Built Families Foundation. Operation Sacred Trust, a community collaboration directed by the Pembroke Pines-based nonprofit, was among the first to be awarded funds and is today one of the nation's largest service providers. In September, VA awarded the foundation more than $2.2 million in new funding along with an additional $300,000 in emergency assistance to help low-income veterans hurt by Hurricane Irma.
The foundation paid out more than $850,000 in temporary financial assistance for very low-income veterans in the past 12 months, said Controller Helene Kafka. Monies went to provide a bridge to help former members of the Armed Forces exit or avoid homelessness by paying rent, utilities, moving costs, deposits, storage fees, and other short-term housing-related expenses. Very low-income is defined by HUD as a household whose total income is below 50 percent of the Area Median Income. In South Florida, that's currently less than $27,000 annually.
From October 2016 to September 2017, the agency served more than 900 very low-income veterans in Broward and Miami-Dade counties, as well as hundreds of children and other family members, including many impacted by Hurricane Irma, said Program Director Yamaris Arbitman-Quiles. Services included case management, housing placements, benefits assistance, legal aid, and resiliency training to help veterans strengthen vital relationships with family, friends and other social supports. The agency's prevention and rapid rehousing services received three-year national accreditation this year from CARF International.
This past year, 87 percent of Veterans receiving services from the agency's three South Florida offices were men and more than half served in the U.S. Army. 80 percent served after the Vietnam War ended, including 17 percent from the Persian Gulf, and 21 percent post 9/11. 27 percent served in a war zone.
"Almost 13 percent of the homeless veterans we served in FY '17 were women," Arbitman-Quiles said.
Ashley Latimar is one of many helped by Operation Sacred Trust.
"Five years ago, Ashley was one of the first homeless Navy veterans reaching out for help," said Arbitman-Quiles. "Today she's a happily married homeowner and mother of two."
"We were able to help her secure affordable housing in the community, which made it more possible for Ashley to begin using her VA benefits, get a good job and keep it. Now she's married, recently purchased and moved into her own home, and just before Irma struck, welcomed a newborn son to the world."
"Every veteran deserves the same opportunities," the Arbitman-Quiles added.
Other members of the Operation Sacred Trust collaboration are Carrfour Supportive Housing, University of Miami, and PAIRS Foundation. With more than $100 million in assets, Carrfour is Florida's largest nonprofit supportive housing developer.
Purpose Built CEO Seth Eisenberg said experience serving thousands of area veterans has taught the group valuable lessons.
"Ninety percent of homeless and at-risk veterans served by Operation Sacred Trust are single, separated or divorced. Besides military service, relationship breakdown is their most common shared experience. Helping veterans become part of a community is important to ensuring they have a safety net for the future," he said.
Eisenberg's experience leaves him optimistic about the South Florida community's ability to end veteran homelessness.
"Operation Sacred Trust is a cost-effective, replicable model for ending veteran homelessness that is working," Eisenberg said. "It's the kind of public-private partnership needed to create a future in which no veteran is homeless in America."
While every veteran family's circumstances and aspirations are unique, Eisenberg said the program's integrated approach is a formula that works.
"Seven years, nearly 1,000 veterans were homeless in South Florida on any given night," Eisenberg said. "Today, that number is down to less than 400. Even one is too many, but we can finally see a future in which no veteran will be homeless in our community. That's a future worth investing in and working very hard to create."
Source: Purpose Built Families Foundation
Share:
---
Categories: Non Profit, Metro News, Military and Defense
Tags: Department of Veterans Affairs, homelessness, Supportive Services for Veteran Families, Veterans
---