Homelessness Challenging Post-9/11 Veterans
Press Release
•
updated: Oct 18, 2019
One in five qualifying for VA-funded Supportive Services for Veteran Families help in South Florida enlisted after 9/11, six-year study reports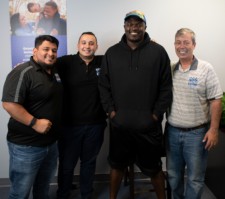 PEMBROKE PINES, Fla., October 18, 2019 (Newswire.com) - ​​​​​​​​​​​​Homelessness is challenging many post-9/11 veterans even more than their peers from prior service eras, according to a study by the nationally-accredited Purpose Built Families Foundation.
The study looked at data from 2,995 homeless servicemen and women served by the Broward-based nonprofit since 2013. More than one in five enlisted after September 11, 2001, author Danielle Korngold reported.
"While there is much more to understand about the post-9/11 veteran experience, the numbers are significant," Korngold said.
Statistically, Korngold expected post-9/11 veterans to be less than 13% of those qualifying for the VA-funded Supportive Services for Veteran Families program in Miami-Dade and Broward counties. The study found post-9/11 veterans represented 22% of those receiving services between 2013 and 2019.
This week, a group of post-9/11 veterans impacted by homelessness got together at Operation Sacred Trust in Pembroke Pines to talk about how the attacks in New York, Pennsylvania, and the Pentagon changed their lives.
When the second plane hit on the morning of September 11, 2001, 19-year-old Michael Desir was in the lobby of a Miami hotel preparing for Marine Corps boot camp.
In Ohio, 11-year-old Jeremy King was dealing with changes in life that would come with his parents' breakup.
16-year-old Juan Flores had just arrived to French class at South Broward High School where his teacher had wheeled out a television set and turned on the news.
"I just remember not really understanding the depth of what had happened," Jeremy said.
"Every conversation around me, people were saying, 'This is real. This is real.' And then I see the news caption, 'America Under Attack,'" Michael remembered.
"Five seconds after we started watching, we saw the second plane hit," Juan said.
All three went on to serve in uniform. Michael and Juan in the Marine Corps; Jeremy in the Navy.
Michael, Jeremy, and Juan were later impacted by Veteran homelessness in Broward and Miami-Dade counties. Juan, now Dr. Juan Flores, as an intake supervisor with the Operation Sacred Trust Supportive Services for Veteran Families program; Michael and Jeremy, as veterans who experienced homelessness firsthand.
Clyde Angel said 14 years serving as a VA Chaplain showed that post-9/11 veterans frequently struggled "to reconnect with self and others through their transition from active duty to civilian life." Dr. Angel said he was able to help many "express emotions and feelings that were difficult due to the symptoms of emotional numbing."
Losing close relationships, Dr. Angel said, is "often a core issue" that goes beyond homelessness. "The ability to strengthen significant relationships provides an important supportive component to deter suicide," he said.
Seth Eisenberg, CEO of Purpose Built Families and a co-founder of Operation Sacred Trust, agrees.
"Preventing homelessness, suicide, and related challenges has to include helping veterans learn practical, usable skills to protect their closest relationships," Eisenberg said.
Source: Purpose Built Families Foundation
Related Media
Tags
Related Files
Additional Links